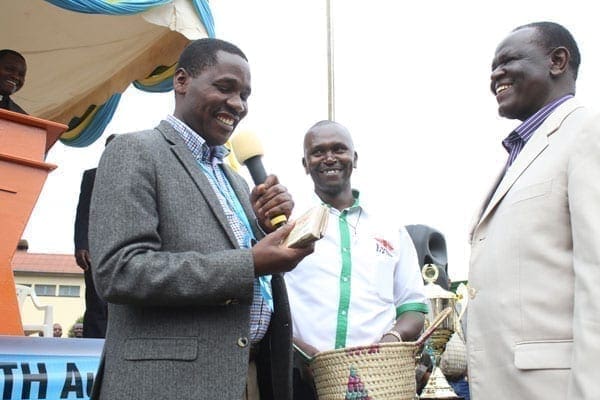 Meru political rivals Governor Peter Munya and Senator Kiraitu Murungi clashed during a rare meeting on Saturday when they shared a podium in a church fundraiser.
The increasingly widening rift between the county's top leaders has led to rising political temperatures.
Several county leaders, including MPs Kinoti Gatobu (Buuri), Mithika Linturi (Igembe South) and Florence Kajuju (Woman Representative), also attended the funds drive for the Meru Diocese.
Calls for tolerance dominated the meeting as the politicians sought to discredit each other's record forcing the master of ceremonies Julius Kimathi, who is also the Meru County secretary, to urge the leaders to tone down on politics since it was a church event.
Senator Murungi who wants to unseat Munya in 2017 enjoys support from Igembe South MP Linturi and Woman Representative Kajuju. Linturi is gunning for the senate seat while Kajuju is seeking to retain hers.
Mr Murungi accused the governor of being a lone ranger.
"The problem in Meru is that Munya is working alone without engaging other leaders. I urge the church to pray for Mr Munya so that he can work with others," the senator said.
He added: "Mr Munya has done his best, but I assure the Meru people that I will do Mr Munya's best better."
The senator said any politician who expects to win any seat in the county should join Jubilee Party.
Mr Linturi hit out at Munya saying the governor should dissolve his entire county executive committee "since the members were playing politics."
"The Meru people should not expect to see any development from the county government from this year. This is because all his CEC members are seeking political positions in various constituencies. The entire Cabinet should be dissolved to avoid conflict of interest," Linturi said.
But county governor accused Murungi and his team of being ignorant of his government's development track record since taking over.
"The senator and others who claim that I haven't done enough are strangers in Jerusalem. They started coming to Meru when they expressed interest in political seats. My record is clear," Mr Munya said.
He disputed claims that he was working alone noting that he was involving the county assembly as required by the law.
"I have not refused to work with any MP but there are requests I turned down. I will reveal it when the time comes because I don't want to antagonize anyone now," he said.
On Jubilee party, Mr Munya said he wouldn't join it since he would be rigged out at the nominations.
"When we were studying law, we used to be told that you cannot win a forest dispute if the judge is a monkey. Jubilee has a Sanhedrin that will be testing whether the aspirant is a loyal member," he said.
"We should be wise enough to know the direction that the train is heading. Let us not be foolish in party choices," said Murungi adding that he hopes to be elected Jubilee chairman next month.
-nation.co.ke