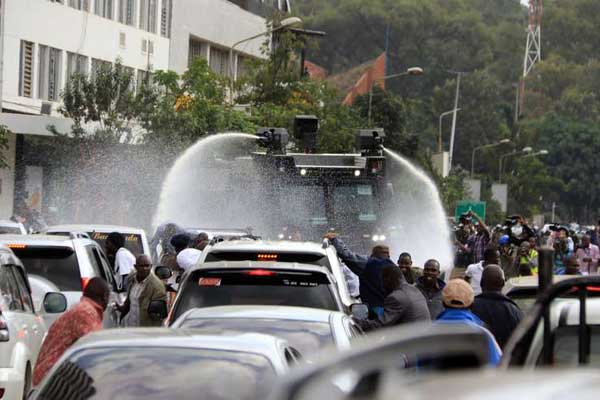 Businesses in Nairobi's city centre lost more than Sh120 million in potential revenue during demos against the electoral agency in May.
According to a report commissioned by the Kenya Private Sector Alliance (KEPSA), the banking sector was hit hardest in the protests.
More than 500 business were hurt by the protests, including boda boda operators, who incurred losses of Sh5,000, and newspaper vendors, who reported losing Sh10,000 each day.
Banks and other financial institutions lost an average of Sh166,727 on each of the five days that the protests were held, amounting to a total loss of Sh833,635 for each bank.
The demonstrations, led by Cord leaders, saw major city streets brought to a standstill as protesters made their way to the Independent Electoral and Boundaries Commission (IEBC) offices at Anniversary Towers.
Some individuals took advantage of the chaos to rob unsuspecting members of the public and loot businesses on the affected streets.
However, some businesses such as transportation, welding and security companies reportedly gained from the protests.
"Those in transportation either increased their fares or rescued those caught in the protests. Security and welding companies were called upon to secure premises," the report states.
RESPONSIBLE CIVIL ACTION
The survey was conducted between July 21 and 23 and researchers interviewed 509 businessmen and women, including 13 industry association heads.
KEPSA chairman Dennis Awori said the business community needs to work with the public to commit to "a narrative of peaceful elections."
With the next general elections just around the corner, Mr Awori said, Kenyans should be encouraged to take a more responsible approach to civil action.
The business community also gave the media the highest approval rating (52 per cent), because they kept businesses informed about what was going on the city's streets.
The police also got a high approval rating (47 per cent) for being "instrumental in managing the crowds and preventing them from looting," said the report.
The government got the lowest approval rating (20 per cent) while the Opposition got a slightly better rating (28 per cent), although most of the respondents felt that there were "better ways of expressing grievances."
Despite the chaos and the losses, a majority of the businesses have ruled out relocating their businesses from the city centre.
"This is evidence that the Nairobi business community is a resilient lot despite their lukewarm confidence in the political environment," read the report.
-nation.co.ke