Uhuru receives IEBC report, wants commissioners quickly hired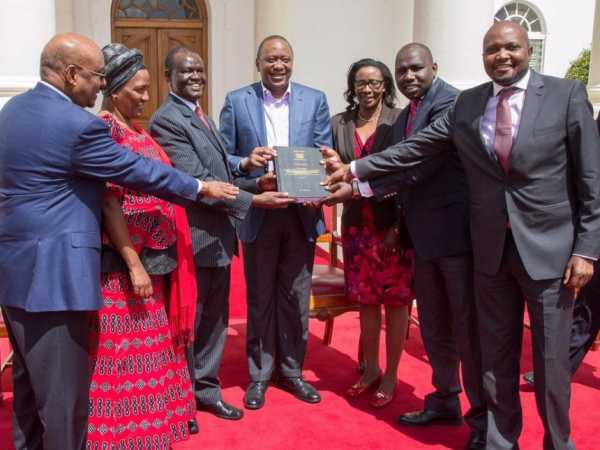 President Uhuru Kenyatta has received the report of the joint parliamentary select committee tasked with charting the path for IEBC reforms.
Uhuru said the process of recruiting and appointing new commissioners should commence urgently to ensure the August 8, 2017 general election takes place as planned.
He emphasised the need for the new commissioners to assume office within the agreed constitutional and statutory timelines in order to deliver free, fair and credible elections.
Uhuru commended members of the committee for their exemplary work delivered against a background of tight deadlines.
He also hailed the team for their by-partisan approach to addressing all matters relating to the IEBC.
Uhuru urged Parliament to expeditiously consider the report in accordance with House procedures and practice.
He said a polls body that enjoys broad confidence of Kenyans is good for the country.
The President noted that the report was a product of consensus and asked MPs to apply the same spirit in addressing all matters of national importance.
The report stated commissioners will leave office by September 30. Committee co-chairs James Orengo and Kiraitu Murungi said this will ensure the appointment of new commissioners in time for the 2017 general elections.
Orengo said they will agree on the commissioners' send-off packages after the committee's report is presented to the National Assembly and Senate.
The committee also resolved that the IEBC will conduct party nominations ahead of next year's elections.
On the voters register, it resolved there was no need for fresh registration as the register will be cleaned by a reputable organisation appointed by the electoral commission.
But the team asked the government to ensure the purchase of BRV and BVI kits is done eight months before the poll to allow proper training of IEBC staff.
-the-star.co.ke