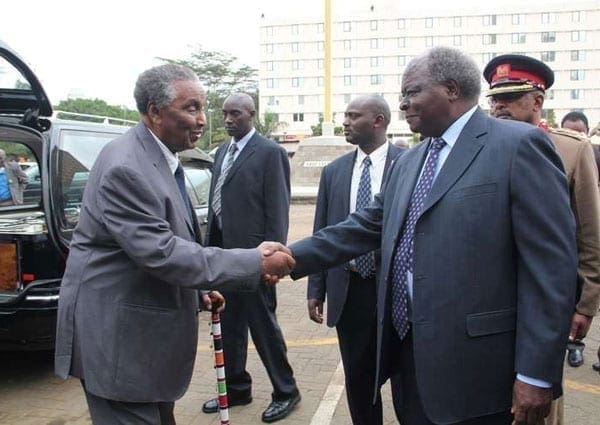 Thirty four years ago, Kenya was plunged into an unprecedented crisis when a young Kenya Air Force soldier led an abortive coup against President Daniel arap Moi.
The putsch led by Senior Private Hezekiah Ochuka, which was nipped in the bud, led to the death of dozens and changed Kenya's history forever.
The young officer and his accomplices were rounded up and hanged, but the story of the negotiations that led to his repatriation from Tanzania where he had sought asylum, has never been told.
It has now emerged that Kenya managed to have Ochuka extradited after striking a political deal with Tanzania which asked that a Maasai political leader who had been arrested, and was headed for detention, be released in exchange.
That leader was William Ronkorua ole Ntimama who died on Thursday night.
"I was in the cells on incitement charges and Moi was determined to detain me. A detention order had been signed," Mr Ntimama told the Sunday Nation in an interview last month.
Mr Ntimama revealed that then Tanzanian Prime Minister Edward Sokoine, a fellow Maasai, called President Moi to request for his release in exchange for Ochuka.
Mr Ntimama was then the fire-spitting chairman of the Narok County Council who was a thorn on the side of Minister Justus ole Tipis, then Narok North MP, Kanu National treasurer and the President's close ally.
Mr Ntimama would later trounce his nemesis, Mr Tipis, in the controversial 1988 elections, and was appointed a minister.
He would serve in the cabinet for the next 25 years, holding different portfolios.
Articulate and tough talking, Mr Ntimama became an eloquent defender of what he called Maasai land rights, which made him a hate figure among other communities.
But he had started his fights much earlier, when for 15 years he was chairman of the Narok County Council — a huge swathe of Savanna and upland forests, beautiful beyond imagination and rolling down from Mt Longonot all the way to Bomet, Nakuru, Kisii, and Migori borders on the Kenyan side, and to the Serengeti across in Tanzania.
The entire Narok, a name that is overshadowed by the more renowned Maasai Mara Game Reserve, retains a seductive charm that bends the will of all, taking away the breath of presidents and other royalty, renowned wildlife film-makers, hoteliers, mineral prospectors, tourists and, being in Kenya, the land grabber.
All these, of course, threatened to ruin the Garden of Eden-like beauty of the land that Enkai, the Maasai god, had bequeathed Mr Ntimama's ancestors and, later, himself and others of his generation.
And they were many, a few of them quite prominent such as John Keen — a man he described as a brother, mentor and fellow radical, Stanley Oloitiptip and Justus ole Tipis.
Some of these exited the stage early, leaving Maasailand vulnerable to what were described as "outsiders", in Mr Ntimama's view.
He decided to make it his lifelong calling to protect the land, doing so through word and deed that sometimes, landed him in trouble.
QUEEN'S TRANSLATOR
This is the man the Sunday Nation caught up with last month in his home at Msongari in Nairobi, reclining in his seat, comfortable slip-ons in his feet, and a thermos full of tea next to him.
Apart from the usual hangers on, he was in the joyful company of his wife, Dorcas, a daughter-in-law and a grandson who is a pilot.
The pride in the octogenarian's voice and eyes was unmistakable as he added details to every introduction.
Well framed photos of him and his family were all over the walls, easily packaging old memories in the fast fading age of adorning rooms with such, complete with the patriarchal symbolism of photography – a young and energetic Ntimama that stared at us from all the four walls, as we chatted with his mentally alert, though physically frail self.
To be fair, we had to raise our voices, above the normal conversational level, and wait for answers that came in clear, free flowing and in impeccable English.
And he laughed a lot, clearly a man who was at peace with himself, proud of his accomplishments that he did not hesitate to enumerate.
Taking us through a journey of memories packaged in a stack of photographs, he lingered on one, dated some time in the late 1950s.
In the photo, a much younger Mr Ntimama is just about the only African in a group that includes the current Queen of England.
"They wanted a Maasai who spoke the best English to come and translate for the queen," he said.
In days gone by, when Mr Ntimama held the unofficial record of having the biggest home library in Kenya, the walls would have been lined with books from corner to corner.
"When I was the Minister of National Heritage (in the Narc government) we built a big library in Narok where I donated all the books. They are mostly history and literature books. If you go there, you will find them at Ntimama corner."
He considered his tenure as Minister for Local Government the most illustrious.
"There was a lot of corruption then and President Moi supported me fully," he said. A little later, he added, "We may not have succeeded because the area still has a lot of corruption".
In his days, before he became one of Mr Moi's most trusted power figures, Ntimama fought many a battle.
He knew which ones to dig in for and which ones to lose honourably.
During the uproar on the Mau Forest invasions in the Grand Coalition government, there was talk that President Moi had irregularly benefitted from land allocations in the forest.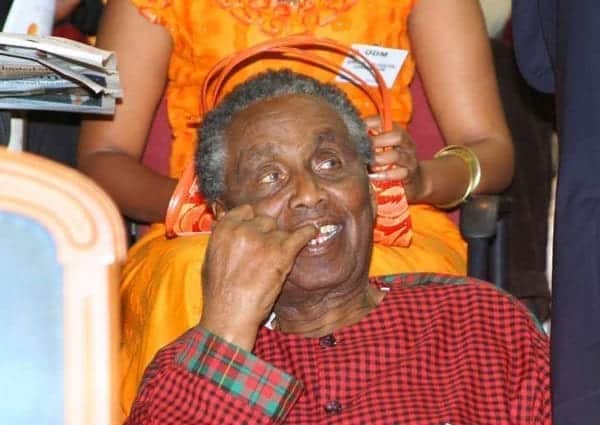 William Ole Ntimama during the ODM national delegates conference at Kasarani Stadium on January 9, 2007. He considered his tenure as Minister for Local Government the most illustrious. PHOTO | MARTIN MUKANGU | NATION MEDIA GROUP
INCITEMENT CLAIMS
Although Mr Moi's defence then was that he was legally allocated the land when Mr Ntimama was the chairman of Narok County Council, Mr Ntimama's allies contended that he caved in only because the President's wish in such matters always came through as a command.
During our interview, Mr Ntimama defended the former President.
"He protected the land that was given him very well. He introduced tea farming to the local people."
He added that Mr Moi was a first class politician who knew how to handle people. "He wasn't an ordinary man. That he ruled for 24 years shows he was an expert in psychology."
The Ntimama that we encountered that day was not the same one we read about when he was at his political peak.
We were humbled by this man who, earlier, had insisted that he would not talk to us unless we accepted the tea that was being offered – never mind it was a scorching afternoon.
We jogged his memory. And it flooded back in torrential forms punctuated, in a pattern we got used to, by roars of laughter.
Did he regret inciting tribal hate with such lines as "lie low like an envelope" (or is it an antelope?) considered to be targeting "outsiders" in Maasailand.
"No", he said. "I was not inciting anyone, I was only raising awareness among my people that they, too, are Kenyans and they have every right to be in Kenya; to take their children to school and to develop their area."
And at that point, the self-educated man cast himself as the Maasai equivalent of Black America's Martin Luther King, the Baptist minister who led the Civil Rights Movement in the United States of the 1960s.
He reminded us of Rosa Parks' symbolic refusal to stand up for a white man on that historic occasion.
And we reminded him of other incidents that would scandalise the entire world were they to happen in this era of social media.
One was when men and youth in Maasai shuka turned up in their numbers to give their leader moral support when he was expected in a court of law to answer to charges of incitement.
By the time Magistrate Uniter Kidullah came to the court, it was packed to capacity, someone was even sitting on her chair, and declined to give it up, instead advising her to go look for another.
The utter refusal to defer to authority was shocking, but it was a show of might by the Maasai supremo. "I was acquitted", Mr Ntimama said.
From the same stack of photographs, he pulled out one that showed him and his supporters being whisked into an underground cell of a Nakuru court, where he was being led to begin time for incitement to violence.
He was later set free on the intervention of the Tanzanian leader. Although he protested his innocence, he still claimed some glory for the jail experience — "If a politician doesn't go to jail, he has not succeeded."
Of the many accusations that were levelled against him, he only admitted to the charge of being a radical, but with the rider that he was only sensitising his people.
This "sensitisation" was usually made against the backdrop of national outrage over some particularly disturbing incidents.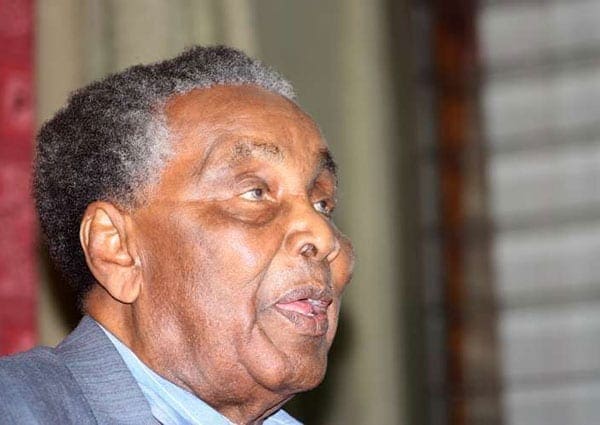 Narok North MP William Ole Ntimama addresses journalists at Parliament Buildings on March 25, 2011. During an interview last month, he declined to discuss why he broke ranks with ODM leader Raila Odinga on whose side he has been for more than a decade. PHOTO | SULEIMAN MBATIAH | NATION MEDIA GROUP
Mr Ntimama would retreat to Suswa, a small town in Narok laden with political symbolism because of its location in the armpits of Mt Suswa and Longonot – near-sacred features amongst the Maasai.
It is here that Mr Ntimama would lead other Maasai politicians in spelling out what the media would later refer to as "the Suswa Declaration".
He often took these pronouncements to the international stage too.
He, at one time, caused a stir in Parliament when he described the Maasai as indigenous while other Kenyans were native.
And he sought to define the difference: "Indigenous people are people, who for no fault of their own, are marginalised."
He had just returned from the UN Decade of the Indigenous People celebrations where he had addressed the General Assembly as the chairman.
"All the indigenous peoples of the world – the red race of America, the Arabs of the north, the people of Scandinavia who at one time gave me reindeer milk to drink – elected me their chairman."
For many, though, "the Suswa Declarations" were actually thinly veiled threats to national security because they encouraged the Maasai to view some Kenyans as "outsiders", a view that often led to conflict.
"Those declarations! They were very useful. I wanted to put my people together so they are not scattered around. Our region is very rich agriculturally and I wanted us to be united so as to develop it," said the man who in his last days divided time between Msongari and Narok where he grew wheat and barley, and kept dairy animals.
He claimed friendship with every politician around, despite the well known run-ins with some, who he would rather not talk about.
He also declined to discuss why he broke ranks with ODM leader Raila Odinga on whose side he has been for more than a decade.
"In politics, I am closer to President Uhuru Kenyatta than to anyone else. What the President has done in bringing international leaders to Kenya has contributed to the development of Kenya in a big way," he said.
And Mr Ntimama still had some fire in his belly to make more pronouncements.
He still thought he needed to go back to Narok to "give direction".
And he did. By taking Maasai leaders to State House and promising to campaign for President Kenyatta, the metamorphosis of the man with a legendary gift of the gab and unplumbed courage had come full circle.
From an avowed Kanu hawk, he became a rebel within and without government and in his last days he had returned to the fold.
-nation.co.ke