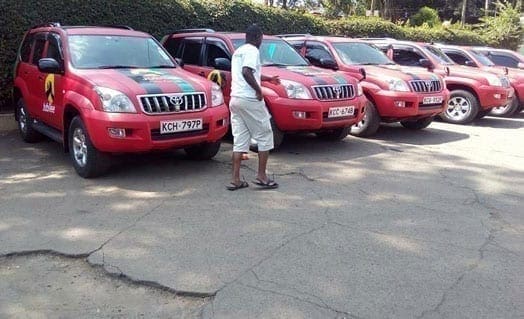 Branded state-of-the-art campaign vehicles parked outside the soon to be launch party headquarters located along Thika Superhighway. PHOTO | COURTESY
Images of the newly acquired Jubilee Party headquarters in Pangani, Nairobi and branded state-of-the-art campaign vehicles have excited the online community.
The mega structure, located along Thika Superhighway near the Pangani overpass was pictured towering high with the Jubilee Party's logo.
The building was put up for auction last year.
Jubilee Party Hqs building was auctioned even before it was completed. Sema kunyanyasa watu
Dozens of branded cars were also pictured at the parking lot sparking a debate on the campaign vehicles.
The Jubilee Party will be launched in a three-day convention that will take place on Friday and Saturday.
Preparations are in top gear for the Jubilee Party launch this week, with thousands of delegates expected to attend.
President Uhuru Kenyatta and Deputy President William Ruto have gone out of their way to ensure that all concerned political parties dissolve successfully.
The President is scheduled to visit Nairobi's Bomas of Kenya and Kasarani Stadium — the venues where parties will hold their delegates conferences on Thursday.
The main event will be on Saturday where all delegates will converge at the Kasarani stadium. Representatives from various parties have also been invited from across the world.
-nairobinews.nation.co.ke