King Abdullah Bumps into His Former Classmate in Nairobi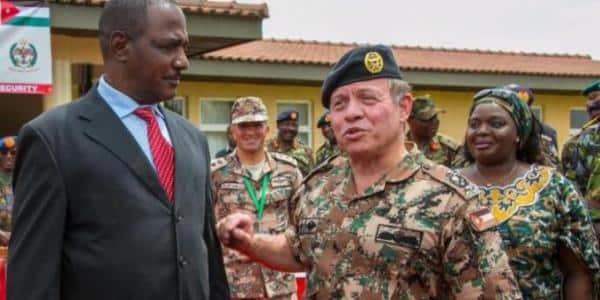 It was a rare  moment of reconnection when the King of Jordan His Majesty King Abdullah II bumped into his old classmate and friend on Monday during a tour of the Embakasi Garrison.
King Abdullah II had been accompanied by his host, President Uhuru Kenyatta, in witnessing a joint military exercise conducted by elite units from the Kenya Defence Forces (KDF) and the Royal Jordanian Armed Forces. The Kenyan and Jordanian officials, including Defence CS Raychelle Omamo, watched in amusement.
It was after the ceremony that King Abdullah II spotted retired Major Samuel Mbugua, his long lost friend, with whom they had gone to military school together.
The Arabian King stopped to have a jovial chat with the friend he met in 1980.
Abdullah II attended the Royal Military Academy Sandhurst at a young age of 18 years, he was commissioned into the British Army as a Second Lieutenant.
At Sandhurst, the Jordanian king trained with Mbugua who later came back to Kenya and continued serving in the KDF.
Sandhurst is ranked fourth among the most prestigious military academies in the world and has notable alumni including Prince William.
-kenyans.co.ke