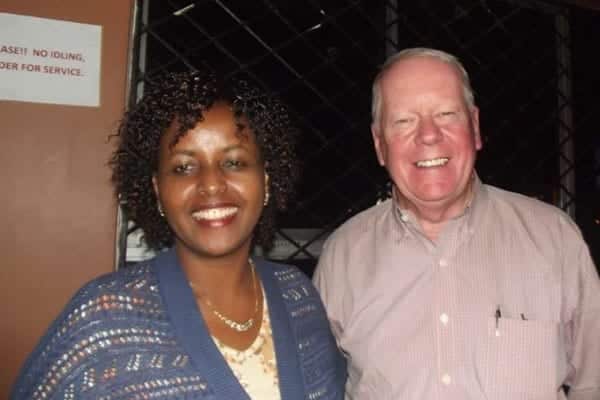 It is a few minutes to midnight and the couple is having the time of their life. Former US ambassador Michael Ranneberger and his wife, Ruth Konchella, are booked at Lenamo Springs Hotel in Kilgoris town.
They invite us warmly to their table where the chemistry between them is unmistakable. The former envoy tells us they have a great day ahead of them, indicating that they wish to retire early.
"We had a busy day today and are very tired. For that reason we do not want to stay here for long," Mr Ranneberger informs us.
The couple has just spent their afternoon at the Kilgoris cattle market buying cows that will be given as bride price.
The former US envoy, however, refuses to disclose the number of cows he will give his in-laws. Cattle traders, we are informed, increased prices as soon when they spotted them at the market.
"You will have a chance to count them later. The moment they saw a white man at the market, they increased prices for heifers from Sh20,000 to Sh40,000," says Ms Konchella.
They easily break into smiles and laughter as they share the secrets of their happy marriage. They have been together for over 10 years now.
Mr Ranneberger served as the US ambassador to Kenya when Kenya was at its lowest point after the 2007/2008 election violence.
He often rubbed the Kenyan government the wrong way in his frequent statements against corruption and poor leadership.
"I know my public pronouncements did not go down well with government officials because of my constant criticism of graft but I have no regrets," he says.
He is forthright that corruption in Kenya angers him. "I love this country. Kenya would be a great nation if corruption levels were reduced," he says.
Switching back to his marriage, he says he is due to complete the payment of bride price the next day. "I will pay in our mother's home at Ololchani village in the outskirts of Kilgoris".
The wife explains that her father, a scion of the Konchella family, a died long time ago.
"We have heard the best marriage ever. I am the happiest woman in the world. He has truly loved and taken care of me. I know I am his queen and he always treats me as one," says Ms Konchella.
The two are now spending their time on a global tour. Mr Ranneberger says they will be in Kenya for a week and then continue with their tour.
"Please take me to the Caribbean Islands next," she proposes with a smile. "No I will take you to London," he replies followed by a hearty laugh.
The former ambassador is divorced from his first wife. He is not keen to go into details.
He is however, happy to celebrate the presence of Ruth in his life. "I have had all the good times with Ruth and she has made me the happiest man in the world. Some people do very big weddings only to end up in tears and regret after a few months. But we are here to say marriage is a blessing," says the former ambassador.
He adds that during his tenure in Kenya, things were very different and he had little time for love.
"I was very busy and the press were all over me. It feels good now with fewer cameras trained on me, and a happy wife besides me," he says.
He says he is out to "be happy and enjoy life as it should be enjoyed.
The need to pay bride price for Ruth arose recently after her mother told her of the death of a relative.
"My mother said the relative was a great man but his only problem was that he had not paid bride price for his wife. It was at that point I began to wonder how important bride price was. I quickly realised that my husband had to pay my bride price lest it goes down in history that our marriage was never traditionally formalised," she says.
So, they hurriedly organised for the ceremony.
According to a Maasai elder, Jonathan Ole Sialo, who is also Ololchani area chief, the going rate is a minimum of eight cows for bride price.
"Six of the cows must be very strong and big. A sheep of good quality is counted as the seventh cow. A ring that is worth more than Sh1,000 is considered the eight cow," he says.
He says the ring is given to the girl's mother by her son-in-law. According to Mr Sialo, Maasai tradition stipulates that the son in-law and his other relatives should spend a night in the woman's homestead.
He explains the woman's family then proceeds to their in-laws' homestead to pick up the bride price cows.
"But because Mr Ranneberger does not have an established homestead here, he will have to look for a family that will temporary shelter him," he says.
He says Mr Ranneberger's temporary family will keep the cows purchased for the ceremony.
The woman's parents will then collect the cattle from that home. Those collecting the cows dress in animal skin and use soft branches to drive the cows home.
"The ceremony is very sacred and that is why animal skin is won. Soft branches are used to push the cows because it is against traditions to hurt those cows," he says.
He says besides the cows, there are other presents like blankets, Maasai shukas and other goodies but cattle are the main gift.
The Maasai elder says, the girl permanently belongs to the husband's family after the ceremony.
"Her parents only recognize that they have her as their daughter but she solely belongs to the husband's family. Even after her death, she is buried where she was married," he says.
He explains that Ms Konchella will now be recognized as an American wife by the Konchellah family and Maasai community after the dowry ceremony.
"After the handover is done, she will now officially be an American wife. We wish her well in her new life," he says.
-nation.co.ke