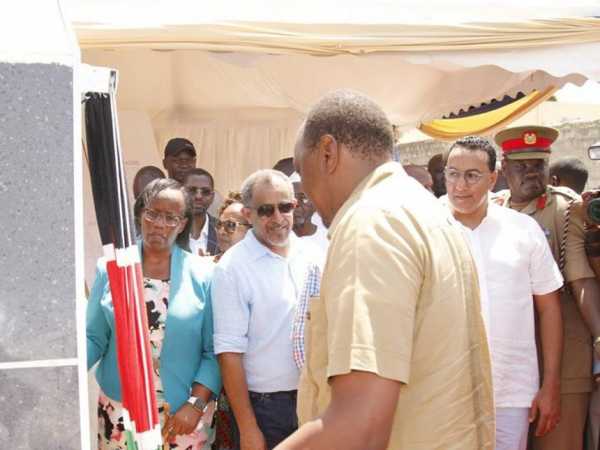 President Uhuru Kenyatta on Friday summoned Suleiman Shahbal and Anania Mwaboza in an attempt to end their rivalry in the Mombasa governor race.
The two, who have been fighting for control of the Jubilee Party at the county, met the President at State House.
The leaders, through a text message, confirmed to the Star the were at State House for the meeting with Uhuru .
"I am in State House. Will call you later," Shahbal said, and so was the same for Mwaboza who said he could not talk because he was with the president.
It is expected that Uhuru, who has been unhappy with the manner in which the party has conducted its business in the area, will reprimand the two.
The president had declined to meet them until they resolved their differences. Kaya elders are likely to endorse Mwaboza for the JP ticket.
Observers of the ongoings said that Uhuru is keen on handling the matter diplomatically so as not to lose either of the politicians.
The two are deemed to be crucial for the President's support at the Coast, a region which largely supports the Opposition.
Uhuru's political advisor Joshua Kutuny had been assigned the task of bridging the gap between the two – who have loyal lieutenants behind them.
Kutuny met both Shahbal and Fareed Swaleh, the JP branch deputy organising secretary, who is allied to Mwaboza.
On Wednesday, Swaleh and Ali Mwatsahu, two of Mwaboza's main allies, called for a truce after a meeting at Nyali International Beach Hotel.
Shahbal's team won most of the interim positions in December's sham Jubilee Party elections at the Kenya School of Government.
Mwaboza's team rejected the results and now want the position shared equally between the two groups.
"I have not been invited. I am disciplined and cannot go to a place uninvited. Only Shahbal and Mwaboza will be invited," Mwatsahu told the Star on phone on Friday.
Shahbal and Mwaboza joined Uhuru during his tour of Mombasa on Thursday where the President commissioned the Mombasa Storm Water Drainage Improvement Project Phase 2.
They were also at the inspection of the Informal Settlement Infrastructural Improvement Project in Ziwa la Ng'ombe and for the opening of Mackinnon meat market at Markiti.
Shahbal commended the solidarity and unity shown by various leaders during the functions, signaling an imminent truce between the two.
"I am very proud of the non-partisan approach the President adopted by developing all parts of the nation, especially Mombasa county. We couldn't have had a better ally than President Uhuru," Shahbal said earlier.
On Thursday evening, Mwaboza said: "Unity is key on our agenda,"
Mwatsahu and Swaleh want the two aspirants to face each other in nominations for the JP ticket from which the winner will face other aspirants in the governor race.
They want the loser of the primaries slated for April to support the winner and become the latter's running mate.
-the-star.co.ke