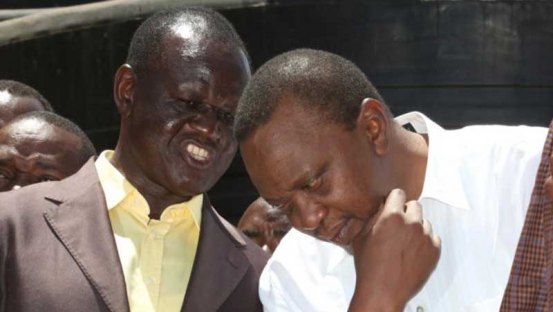 Open grumbling by leaders from Meru's largest sub-tribe may have informed the postponement of President Uhuru Kenyatta's visit, initially set for Tuesday. State House spokesman Manoah Esipisu announced Monday that due to unavoidable circumstances, President Kenyatta would not be making the two-day visit to Tharaka Nithi and Meru counties starting today "as had earlier been indicated".
Mr Esipisu said Uhuru would, instead, make a visit to western Kenya later in the week in an itinerary that features Trans Nzoia, Bungoma, Busia and Kakamega counties. There has been a feeling that Jubilee has overreacted to displeasure in Igembe region in Meru and Tharaka constituency in Tharaka Nithi by fast-tracking all projects while ignoring traditionally loyal areas such as Imenti, Tigania and Chuka/Maara. According to close Uhuru backers, the visit had to be called off because this key support base is seen as "sensitive" and its internal politics is best left to locals.
LEADERS OVERLOOKED
The last-minute cancellation of the meeting came as leaders especially from Imenti grumbled that the area had been overlooked. They said the only road project to be launched in the area is in Gatobu Kinoti's Buuri Constituency, which is a settlement area hived off from North Imenti in the 2013 boundary review. According to North Imenti MP Rahim Dawood, they had asked two Cabinet secretaries sent to the area as a presidential fact-finding team to have the visit postponed.
James Macharia (Transport) was in Meru on Friday and Mwangi Kiunjuri (Devolution) later in the weekend. Mr Dawood said he wanted projects in his area such as the Mck Kinoru to Nkoune road considered for launch by Uhuru. "There were concerns that no roads in South, Central and North Imenti would be launched during the presidential itinerary," he said. The Sh8.2 billion road projects covering 142kms provided by Igembe South MP Mithika Linturi last weekend showed the President was to launch the Kisima-Kibiricha-Kirua-Ruiri in Buuri, which is being constructed by China National-Aero-Tech.
The project will cost Sh1.7 billion and is 20 per cent complete. There was also the Sh1.2 billion Maua-Athiru Gaiti–National Park road in Igembe South awarded to Atticon Ltd, Sh1.3 billion Athi-Ogoti/Kinja Kimwonongoro-Auki–Thi Gaiti and access roads to Meru University awarded to Jiangxi Water. Others are Kunene-Kagaane-Miomboni to Don Woods at Sh1.3 billion, Kangeta–Muutine-Laare in Igembe Central to Attion for Sh652 million and Laare–Ndumuru in Igembe North awarded to Derrow Brothers for Sh999 million.
Linturi said they had lobbied the Government to allocate another Sh51.5 million for improvement of 14 rural access roads in the county. "Generally, as Meru Jubilee leaders, we are very happy with the assistance of the Government in road infrastructure improvement in Meru," said the MP. But he admitted the President was unlikely to delve into the controversy over the uncompleted Mate Road, which is the second artery connecting Embu County to Meru town through the low-lying Tharaka region. "The President himself launched this project in 2014 and as far as we are concerned, he will be on new projects this time around," said the MP.
The controversial road known officially as Ena-Ishiara-Chiakariga–Mitunguu–Meru town highway was first launched under President Kibaki's Government more than 10 years ago. GLOWING TRIBUTE The uncompleted section between Chiakariga and Meru town serving mostly Imenti region has been under construction for the entire Jubilee Government's term.
But the Buuri MP paid glowing tribute to Jubilee, saying it had commissioned Tutua and ex-Lewa boreholes with the latter having a production capacity of 10,000 litres an hour. "I don't care whether he comes to Buuri or not, he has already done enough for us," said Kinoti, adding that Uhuru had fulfilled the promises he had made to his area during his wedding in 2014. But other leaders such as Mt Kenya Youth Caucus chairman Linford Mutembei said calling off the visit was well-advised.
"It was clear that the launch of the roads was meant to earn mileage for a section of the Meru leadership when some areas such as Central Imenti never had a fully dedicated road project," said Mr Mutembei. He cited the Nkubu High School-Mujwa-Kariene road as one of the "political road projects" that the President should launch.
Igembe Central parliamentary aspirant James Mithika said the Opposition's tide was strong in Igembe but urged Jubilee to use a new strategy to market its work in Meru. The postponement of the visit comes at a time when leaders such as Meru governor Peter Munya have sounded a warning to President Uhuru Kenyatta that he should only expect conditional support from Meru County in the August 8 General Election.
Source link-standardmedia.co.ke