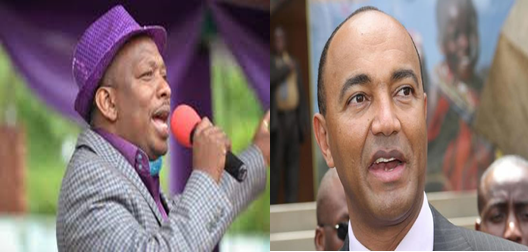 In 2013, a section of possibly 'forward-thinking' Kenyans were infatuated by the idea of a third force against the obvious two-horse race in the hotly contested presidential election.
Steering this enchantment was former Gatanga Mermber of Parliament, Peter Kenneth, who after what can rightly be described as a sterling performance as a first- time parliamentarian, was bold enough to run for the country's top seat.
Teaming up with Emmy Award winning journalist and former Rarieda Member of Parliament, Raphael Tuju's Party of Action (POA), Kenneth's Kenya National Congress (KNC) reached out to like-minded aspirants to form the Eagle Alliance with the currentYouth Enterprise Development Fund (YEDF) chair Ronald Osumba as his running-mate.
The arguably youthful force garnered a paltry 72,786votes in the March 4, 2013 election, equivalent to a dismal 0.6 percent of the total valid votes cast.
In Nairobi, another first-time Parliamentarian, then Makadara MP Mike Sonko was warming up to the new devolved governance system in the Nairobi senatorial race. Sonko was facing a formidable opponent, Jesus is Alive Ministries (JIAM) Bishop Margaret Wanjiru, who had toppled former Cabinet Minister, Maina Kamanda, as Starehe MP even after a by-election following disputed results.
Sonko is arguably the most unconventional MP in Kenya's history who was even once kicked out of Parliament for wearing earrings and sunglasses. His unorthodox approach to representation plus nondescript projects albeit emotionally appealing, would eventually make him a darling of his constituents and lower cadre Nairobians in extension.
His meteoric rise to national prominence coupled up with frequent bouts of 'philanthropy', admittedly unseen before, Mike Sonko, decisively trounced over Bishop Wanjiru in the March 4, 2013 election garnering 808,705 votes against the former's 525,822.
On Friday, April 21, these two politicians face off in one of the most watched party primaries in search of the Jubilee Party ticket for the Nairobi gubernatorial race. With the contest taking shape with the entry of Kenneth who resigned from KNC announcing support for President Uhuru Kenyatta's re-election, Sonko has been seen to revert to his old ways throwing tantrums and branding his competitor a Nairobi outsider.
Source link-citizentv.co.ke