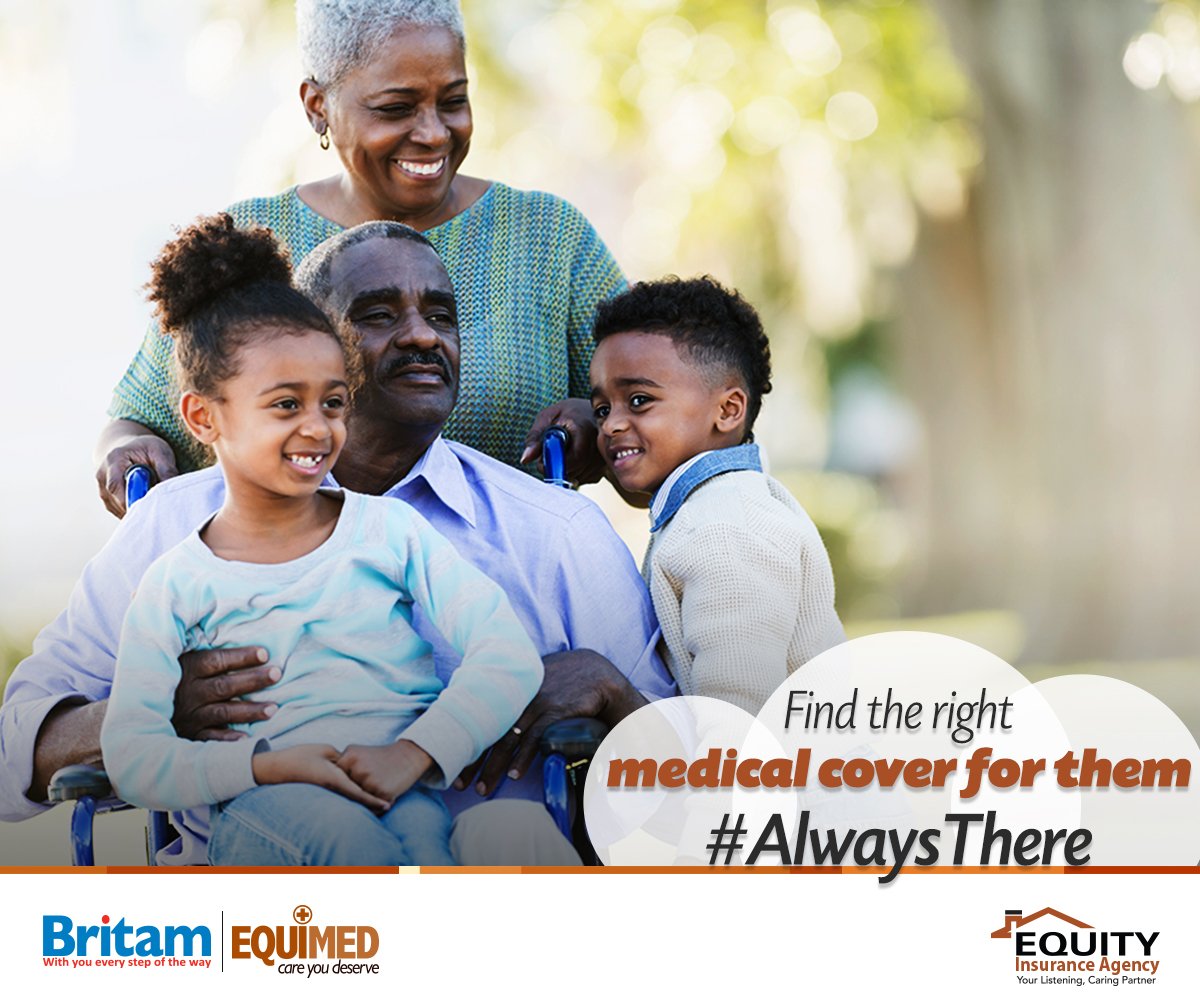 Equity Insurance Agency has launched a medical cover targeted at the diaspora market to benefit their
loved ones back home. The medical cover dubbed 'Equimed' is reliable, affordable and flexible. It is
underwritten by Britam Insurance Company and covers outpatient, inpatient, maternity, dental, optical
among many other benefits.
Equity Bank conducted an online poll among Kenyans in diaspora to establish their top priorities when
sending money back home. When asked what type of support to their loved ones back home cost them
the most, nearly 30% of them said medical care. This was the second highest rating after investments
which polled at 36%.
When asked what their primary concern was when thinking about their loved ones back in Kenya, paying
medical bills was one of the top concerns as well; with investments being their foremost concern.
As the world becomes more globalised, many enterprising Kenyans have left the country and made
other countries abroad their second home, obtained jobs or started businesses and are supporting their
families back home.
In fact, remittances by Kenyans living abroad have risen by 4.1 per cent in the first half of the year to
$887.6 million (Sh91.6 billion) in comparison to a similar period last year according to statistics from the
Central Bank of Kenya. The report indicates that Kenyans in diaspora sent more money home in the
second quarter of 2017 compared to the first, peaking at an all-time monthly high of $161.5 million
(Sh16.6 billion) in May.
"Equimed is a comprehensive medical insurance package offered to individuals, families, groups and
SMEs that will enable diaspora customers take care of their loved ones back home. This will save them
money and more importantly given them peace of mind," said David Muchiri, the General Manager for
Equity Insurance Agency.
Features of Equimed include:
Outpatient Cover: This caters for medical procedures or tests that are done in a health clinic or facility
without an overnight stay. The benefit also covers treatment of chronic & recurring conditions and
congenital/genetic disorders.
Inpatient Cover: Caters for:
 Medical procedures and treatments that require hospital admission
 Bodily injury caused by an accident occurring while the policy is in force
 Sickness or disease which first manifests itself while the policy is in force
 Day care surgeries that require the patient to be admitted to a hospital and to occupy a hospital
bed during the day. A patient has to be under general anesthesia and in use of theatre
 Maternity i.e. natural birth, caesarean section, ante-natal, post-natal and routine
immunizations. This benefit is accessible within the various sub-limits, depending on the cover
chosen. Waiting period of 12 months is applicable
 Pre-existing, chronic, congenital, HIV/AIDS related conditions subject to various sub-limits
depending on the cover chosen. Chronic conditions diagnosed within the first year of cover will
be treated under the newly diagnosed sublimit
Dental benefit: The dental benefit caters for teeth extraction, filling, gum treatment and is accessible
within the outpatient benefit with various sub-limits.
Optical benefit: The optical benefit caters for frames and prescription lenses upon purchase of the
benefit at the inception of the policy. This can be accessed through the listed panel of service providers.
For more information, log onto: http://ke.equitybankgroup.com/diaspora/insurance-service/medical-
insurance/ or https://insurance.equitybankgroup.com/index.php/products/health. You can also email
Kenyans.Abroad@equitybank.co.ke or call +254-763063000