'Liberation fighter' Miguna Miguna found himself in a tight spot on Monday after supporters of Governor Granton Samboja ganged up against him outside Voi High Court. The...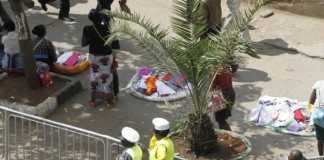 The Nairobi County Government plans to hire 300 city officers to improve county operations. Senior Inspector at City Hall Peter Mbaya said the County is...
Kenya Airways (KQ, Nairobi Jomo Kenyatta) has announced it will make its North American debut during the last quarter of this year. The Kenyan carrier...
NAIROBI, Kenya, Jan 16 – President Uhuru Kenyatta Tuesday met Kenyan-born Australian Senator Lucy Gichuhi and urged her to use her position to boost...
Kenyans living in the US turned up in large numbers Saturday to raise money to ship home the body of a Kenyan college student...
As with many Kenyan female domestic workers returning from Saudi Arabia, Maria Mmboga is glad to have escaped a life of torment, physical abuse, and...