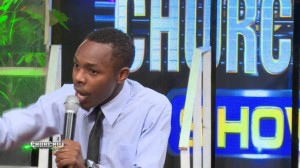 The week started on a very sad note for one of Churchill Show's comedian after loosing his beloved brother in a gun fire. Sleepy David better known simply as 'Sleepy' has apparently lost his brother who was among a gang of robbers shot dead by police in a gun battle in Buru Buru after having carjacked a motorist.
According to sources, the deceased was among four suspected thugs who were shot dead on Sunday night  in a failed robbery incident in Jam Rescue area, Buruburu, Nairobi and a pistol recovered from them.
The incident was later reported by the Standard Digital  who gave a witness account of how the incident unfolded. The police are also said to recover a BMW car which the gang was using on their robbing spree on that fateful night and are believed to have stolen from the owner in a carjacking.
It is also believed that Sleepy's brother and his counterparts were among a gang of robbers who have been terrorizing Buru Buru residents and their neighbors in the neighboring estates.  On top of the BMW, the robbers are said to have gotten away with a 24′ television which they are suspected to have robbed from a homestead but was also recovered . When it is all said and done, we would like to pass our sincere condolences to Sleepy and his family for loosing a loved one.-niaje
This post has already been read 1136 times!
Category: KENYA NEW 2013, NEWS