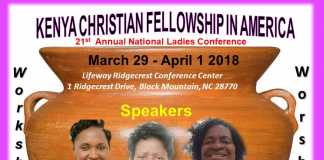 You are invited to KCFA 21st Annual National Ladies Conference in Black Mountain North Carolina on March 29th to April 1st 2018.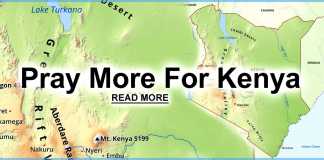 Dear Brothers and Sisters, In light of the recent unfolding of the political events in Kenya, the call to prayer has never been more urgent...
All men of all ages are invited to the 2018 annual KCFA men's conference in February 9th to 11th at the Marriott hotel and...
The weekend of July 4th is known not only for celebrating the American Independence but for a time when Kenyans from different states in...
You are invited to A Promise Generation Annual Conference on March 6-8 2015 in Seattle Washington. Those planning to attend are being encouraged to purchase their...
You are invited to KCFA 13th Annual Southern Region Ladies Retreat at Shocco Springs Conference Center in Alabama.
You are invited to the Kenya Christian Fellowship in America 17th Annual National Ladies Conference in Ridgecrest,NC