Kenyan Father Paul Deya stabs son,wife and self in London
Kenyan Father Paul Deya stabs son,wife and self in London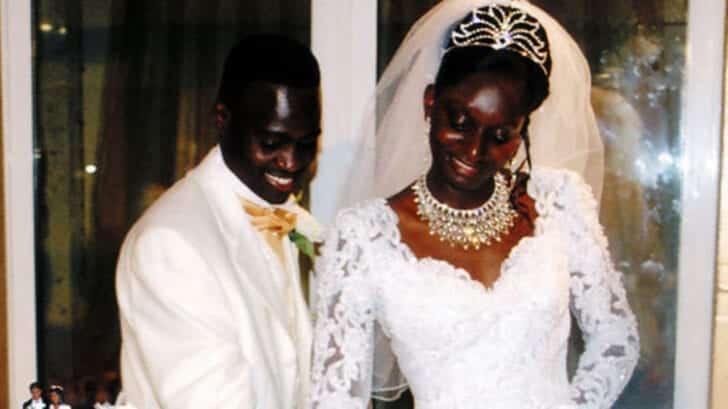 London,
Tuesday 24th November, 2009. Sad news for a Kenyan family in London. A four-year-old boy was stabbed to death by his father at their home in Southwark last night. The man's wife had her throat slashed but their 17-month-old girl was left unharmed in the horrific attack. The husband is understood to have stabbed himself repeatedly and was seriously ill in hospital. The woman, 28, was not seriously hurt. She and her daughter were taken to hospital and released. The 31-year-old father is under guard at a south London hospital. His 28-year-old wife suffered a stab wound to the neck but has been discharged.
A Metropolitan Police spokesman said the man, whose condition is described as "serious", remains under guard in hospital. The couple were named locally as Paul Deya and Jacqueline Otieno and their four-year-old son as Wilson. Paul Deya is a son of brother of Arch Bishop Deya.

Scotland Yard

said police were called to the flat in Lynton Road on the Lynton

Estate, Bermondsey,

at 6.15pm. The investigation was being carried out by the Child Abuse Command. A spokesman said: "We are not looking for anyone else in connection with this." Witnesses told how scores of police cars raced to the scene. Rita Dixon, 71, said she knew the family: "They were a lovely family. Happy-go-lucky, and such a nice couple. "I was in my flat yesterday when all of a sudden police came from nowhere. I saw the father coming out on a stretcher.
"They had to stop halfway down the stairs to resuscitate him. The mother was in an ambulance holding the baby." Detectives are investigating reports that Mrs Otieno had asked her husband for a separation before he launched the attack. Police are not believed to have been called to the family's flat before. Forensic science teams were today carrying out investigations at the flat. Mark O'Connor, 42, who runs nearby pub The Finish, said paramedics carried an unconscious, naked man from the flat before spending 40 minutes trying to revive him in the street. He said: "I could see a black man being moved down the stairs. He was naked and I could see a neck wound and various other wounds. It was quite gruesome. He was bleeding very, very badly." Mrs Dixon's daughter Joan, 39, said she heard screaming just before police were called. She added: "Everyone thought they were happy. How could a person do that to a child? It is diabolical." Ms Dixon said the family had moved onto the estate 18

months ago. Simon Hughes,

Lib-Dem MP for the area, who lives a short distance away, said: "There will be huge shock and horror throughout the community." Incidents of children being killed are rare. Last year there were six cases of children below the age of 12 being killed in London, only two were stabbed.
*******************o*******************
Knife murder rocks Deya family
The Deya family at Paul's wedding. Paul is suspected to have stabbed his wife and four-year-old son, who died on Monday. Photo/FILE
By GITAU wa NJENGA in LONDON Wednesday, November 25 2009
UK police on Tuesday arrested a son of embattled London-based Kenyan preacher Gilbert Deya on suspicion of murder. Paul Deya, 31, was arrested after his three-year-old son, Wilson, was found stabbed to death on Monday.
Paul was suspected of having killed Wilson and stabbing the boy's mother, Jacqueline Otieno, 28, in a ferocious knife attack at their home in Southwark, South East London before turning the knife on himself. The couple's 17-month-old baby girl was not harmed in the incident.
Pastor Gilbert Deya claims to pray for infertile women to have children. However, Kenyan authorities say he is a baby thief and have been seeking to prosecute him. He is fighting extradition from the UK, arguing that Kenya is banana republic-type country where he is unlikely to get justice. His wife is serving a prison term for child theft.
During the Monday incident, Paul's neighbours called the police on hearing the couple quarrelling in their flat in East London at about 6pm. Police officers arrived at the Lynton Estate flat 15 minutes later to find the body of the three-year-old boy. Mrs Otieno was taken to hospital with a stab wound on the neck. She has since been discharged.
A Metropolitan Police spokesman said Paul remained under police guard in South London hospital after undergoing surgery for stab wounds to his neck and body. "Police have launched a murder inquiry and are investigating the circumstances surrounding the death of a three-year-old boy in Southwark," he said.
The death is being investigated by officers led by Detective Inspector Keith Braithwaite, based at Stratford Police Station in East London."At this stage, officers are looking into all the circumstances surrounding the child's death. The investigation is being carried out by the Child Abuse Command of The Metropolitan Police Service," the spokesman said.
Detectives are investigating reports that Mrs Otieno had asked her husband for a separation before he attacked her. Paul is believed to have stabbed himself repeatedly during the attack. He was adopted by the bishop after his own father died.
A well placed source who knew the couple said that Paul and Jacqueline worked for the Gilbert Deya Ministries in London. "Paul was in charge of Deya Broadcasting Network (DBN) a new satellite broadcasting service which broadcasts on Sky TV channel while his wife worked as an accountant," said the source.
The Kenyan community in London expressed shock on learning about the incident. "Everyone is horrified by the gruesome murder of the little boy," said Mr Macharia wa Gakuru, author of Deya & The Miracle Babies, a biography of Bishop Deya, part of which was serialised by the Daily Nation in July. Incidents of children being killed are rare in London. Last year there were six cases of children below the age of 12 being killed; only two were stabbed.
On November 8, the

Sunday Nation

reported that Pastor Deya, 56, was living on borrowed time in London after it emerged that he had exhausted all avenues of appeal in the United Kingdom and will be kicked out soon. The controversial preacher is fighting extradition to Kenya in a complex and costly legal tussle in the British courts. It is believed his legal costs amounted to more than Sh124 million (£1 million).
Pastor Deya, who runs his world-wide Gilbert Deya Ministries from Ormside Road, Peckham, South London, has 34,000 followers in the UK alone. However, he is now considered a failed asylum seeker currently ordered to report weekly at Deptford Police Station in South London.
Sources told the Nation that Pastor Deya could be extradited before Christmas. The preacher is wanted in Kenya on five counts of abducting children aged between 22 months and four-and-a-half years between 1999 and 2004. He claims to have powers which have enabled 22 infertile and menopausal women to have "miracle babies".
Police in Nairobi say their investigations revolve around the disappearance of babies from Nairobi's Pumwani Maternity Hospital and involve suspects in Britain, Ghana, Nigeria, Uganda and Kenya. His wife Mary and two other women, Miriam Nyeko and Rose Kiserem, were jailed for two years over the miracle babies saga.
The Daily Mirror

,

a London tabloid, reported that Paul and his wife were partners in a broke video editing business, J Okendo Ltd. A well-placed source told the Nation that Jacqueline was being looked after by her adopted West Indies family in Peckham, South London.
The couple's 17-month baby girl, Velarie, is in the custody of Southwark Social Services. "The couple handled all Deya's financial transactions," said Mr Gakuru, a former Deya business associate. Sources told the Nation that although the couple appeared a normal happy family to the outside world, they were locked in a bitter, arranged marriage. The couple married in 2005 at Deya's church in London, with Pastor Deya officiating the ceremony.
Sources said Paul was usually quiet and calm. "He was unwell for a while with a heart ailment which was treated at the Nairobi Hospital in 2008," said Mr Gakuru. Simon Hughes, Liberal Democrat MP for North Southwark and Bermondsey, who lives a short distance away from the couple's home said:"The thoughts and prayers of the country will be with the little girl also found in the flat, and all the family".
Paul was adopted by Bishop Deya after his biological father, Wilson Deya died in the 1970s. He arrived in the UK in the late 1990s along with Deya's other children, Amos, Dan, Rebecca, Jane, David and Moses. Moses is now in the custody of social services after DNA paternity results proved he was not Pastor Deya's son. Paul's brother, Walter lives in Nairobi with his wife, Annete. Paul studied media studies at Croydon College along with his cousin Dan in 2003.