Most traumatic visits: Tragedy strikes same family thrice in July
Most traumatic visits: Tragedy strikes same family thrice in July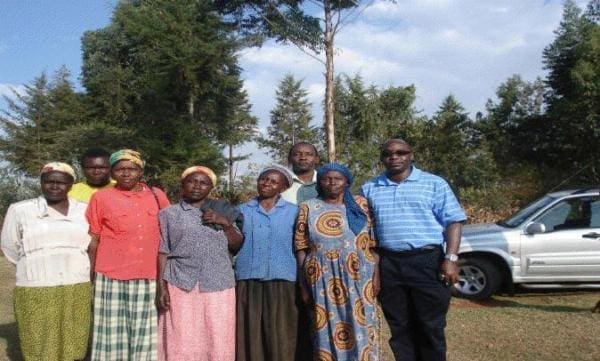 My latest visit home from the USA in July 2011 was unplanned and the most traumatic of all my visits.
In February this year I learnt that my sister Agnes, who was suffering from cervical cancer, was in bad shape. I therefore opted to pass through Kenya on my way back to the USA from a mission trip to India and Turkey. I indeed found Agnes seriously sick and at her daughter's place in Embakasi in Nairobi. I then went to Western Kenya to visit family and friends. I ended up attending the burial of Dr. Isiaho, a father to my cousin's wife, in Hamisi and another funeral in Kaptuywa. I also made a point of meeting my sister Ennicah, a retired school teacher, who wanted to meet me. We met at my brother's place at Nangili Girls' Secondary School. Ennicah was on treatment for a heart condition but she assured me all was well and she was recovering. Together we visited our aunt, Esther. Esther had been ailing for a while and I used to help with her treatment and to monitor her situation. As I wound up my travels upcountry I heard Agnes wanted me urgently in Nairobi to facilitate her return to her home in Serem in Hamisi. Knowing her medical condition, I took with me my sister Rispah and her own daughter, Violet. Both are nurses in public service at Lumakanda and Bungoma District Hospitals respectively. Once in Nairobi I hired a minivan to take Agnes and her entourage back home. I took my plane that same night to the USA.
On June 26th at 10.42 A.M I received a sms from Beffrey. It simply said "…Just to let you know that mom's condition has worsened. She has neither eaten nor spoken for the last two days. We are desperate for your prayers". I was speechless even though I had expected this turn of events. At 5.15 A.M on July 1st a brief message popped up on my phone. I lazily picked up my phone and read the short but distressing message from my brother, Bramwell. It simply stated "Agnes dead". When I told my wife she got hysterical. I immediately embarked on scouting for an air ticket while helping with the arrangements back at home. Being a busy holiday season flights were difficult to get and quite costly too. I left the USA on Wednesday night and landed at JKIA at 8.30 A.M on Friday July 8th. My cousin, Maj. Mulehi, kindly agreed to drive me to Western Kenya that Friday since Agnes' burial was scheduled for the next day. We made it there at 7 P.M. 2
With my sister, Agnes, in Embakasi Village in February
The burial was well attended and an overall success. Visitors came from Nairobi, Bungoma, Lumakanda, Ikobero, Kitale, Bunyala, Eldoret, Kisii, Webuye, Kakamega, Matunda etc to condole the family. Ennicah's absence was quite conspicuous but her daughters, Clarah and Rose, assured the gathering that she had been advised against being in noisy places. She would come to her sister's grave a bit later. We took that to mean she would come for the final prayers that were scheduled for Wednesday July 13th. I went with Maj. Mulehi to his home in Kitale for a short rest just after we buried Agnes.
We spent Sunday on various errands in Kitale. We continued the same on Monday although we eventually ended up at the Cherenganyi Hospital mortuary to console our sister in law, Jane Miheso, whose younger sister had died suddenly of heart attack that morning. That Monday evening around 7 P.M my sister Ennicah called seeking to accompany us to Agnes' graveside for the first time. She knew I was in Kitale and I would pick our mother the next day from Lumakanda and take her to Agnes' place. We agreed that I would pick Ennicah at 9 A.M on Tuesday at Moisbridge Township so that together we would pick our mother and proceed to Agnes' home in preparation for the final prayers on Wednesday.
In the middle of the night, just past 3.30 A.M my phone jerked me from a deep sleep. I picked and looked at it. It was Ennicah. My mind raced. Why would she be calling me at such a time? Had we not agreed to meet at 9 A.M? Was there trouble? I pressed "talk" and got a shock of my life. The person on the line was Ennicah's son, Shivachi, and his message simply was "I want to let you know that mom is no more….." What do you mean by "no more"? Really? Where are you? Who are you with? How do you know that? What happened? It dawned on me that she went to the toilet at 3 A.M and when she got back to her bed she only breathed heavily twice then went silent. Her husband and son had tried to revive her without success. I took over the calling and alerted my siblings, friends and relatives that night. As fate had dictated, I found myself back at the Cherenganyi mortuary on Tuesday morning seeking a place to preserve Ennicah's body. The body eventually arrived around noon. We booked it in and I started my trip, with Bramwell, to Lumakanda.
With my sister, Ennicah, 4
We were worried that the news would be devastating for our 88-year old mother so Rispah went home earlier to psychologically prepare her. It was a task breaking the news to her. At first we simply built on Rispah's story that Ennicah was very sick and I had to get her to hospital that morning before coming to Lumakanda. Our plan was to get her to stick to our initial plan: we go to finish prayers at Agnes' place before we commence Ennicah's funeral arrangements. However, mom still enjoys telepathy. She threw a spanner in the works. She insisted that she wanted me to take her to see Ennicah at the hospital first before we proceed to Agnes' place. She noticed that we were consulting a lot and her sixth sense took over. At one time she lamented to a woman in her company "What are these kids consulting about? Why can't they just tell me if Ennicah is dead?". We eventually broke the sad news to her and gave her the options. She picked the one we preferred namely to proceed to Hamisi as initially planned to attend the final prayers for Agnes then proceed to Ennicah's place. We started the trip, stopped by in Butali to pick her only surviving sister and we eventually arrived at Agnes' place around 7.30 P.M. I started the next day very early in the morning and reached the graves of close relatives who had died while I was away, Daudi Savatia and Samuel Alulu's daughter, before proceeding to the prayers in Hamisi. Immediately after the prayers we bid farewell to my brother in law, Thomas Mmaitsi, and the other mourners. We then left for the mortuary in Kitale and to Ennicah's home in Mashini, Moisbridge. Thomas called later that day around 6 P.M. to know how our trip was and I assured him that all was well. Things proceeded as planned. Ennicah's burial ceremony, on the following Saturday, July 16.was a success and well attended just as Agnes' had been. I took a day trip to the scenic Lake Bogoria to see flamingoes, animals and the hot springs to rewind and de-stress. th. I took mom home that Monday and spent the whole day there. Next day I drove from Eldoret to Nakuru and then on to Nairobi on Wednesday. I spent Wednesday evening at the Nairobi Club with my cousins, Maj. Mulehi and Ethel Man'gare. We spoke much about how delicate my two brother-in-laws would be after the demise of their wives and the support they needed. I pleaded with the two to advice Beffrey and Munaweza, the Nairobi-based children of my late sisters. st at 8.30 A.M I left Kenya aboard KLM/KQ for the USA via Amsterdam. I had a 20-hour wait time in Amsterdam before connecting. In the morning of Friday July 22nd, just four hours before my connecting flight, I saw missed calls on my phone from Henry Muleri and Sammy Guvaha. Soon a sms followed from David. It simply stated "Father Beffrey is dead". Father Beffrey is Thomas Mmaitsi, the husband to my sister Agnes whom we had buried 12 days ago! I informed my wife and friends of the sad news and my resolve to proceed to the USA. I later learnt that Thomas was jovial and saw off her daughter Judith to Mombasa and spoke with her sons up to late that Thursday night. However, he did not wake up the next morning at his usual time and when they went to investigate they found he had died in his sleep. Like Agnes and Ennicah before him, we brought the body home from the mortuary on Thursday and laid him to rest on Saturday July 30th.
We started the month with a death and ended it with a burial, the third one. All the three were retired teachers aged 64 to 70 years. Yet this is not the first time such tragedies have struck us. Our other sisters, Ingasiani and Jane, died in separate mysterious fire and food poisoning incidences in the 1960s while our brother, Aineah, collapsed and died in 2008 while on his way to work at Kaimosi Mission Hospital. We later determined he died of hypertension.
The dark month of July 2011 saw us bury our three loved ones, on three Saturdays of the month. Many have told us most things come in threes. We would like to say "Amen" and add a full-stop to all that, God willing.
By Dr. Morrison Muleri
Most traumatic visits: Tragedy strikes same family thrice in July.