A Kenyan man found dead in the Potomac River Washington DC
A Kenyan man found dead in the Potomac River Washington DC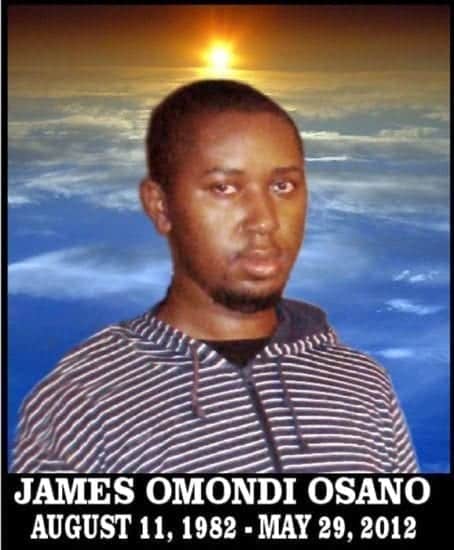 A young Kenyan man was found dead in the Potomac River in Washington D.C. James Omondi Osano left home on Sunday morning of May 27 and never came back. His parent reported the matter to the police the same day and few days later on May 29th, they were informed that a body resembling that of their son was found in the Potomac River. After identification, they were able to confirm that it was their missing son's body. Police are still investigating the cause and manner of Death.
He was the son of Remy Osano and Rose Osano of Greenbelt, Maryland. Brother to Leo Osano and Robert Osano of New York, Hellen Osano, Florence Osano, David Osano and Mary Osano of Greenbelt Maryland. Grandson to the late Sabiano Adoyo , late Maria Adoyo , Samson Otieno and the late Magdalina Otieno. Nephew to Sarah OtienoPeter Otieno, William Otieno, Elisha Otieno, Steven Otieno, Edward Ngala, Gaya Ngala, Maurice Ngala,   Perez Adienge, Samuel Ongadi, Ochola Ongadi and others. Cousin to Kennedy Ogwang, Jared Ogwang, Joseph Ogwang, Quinta Ogwang and Richard Ogwang of KobalaKenya. Also cousin to Caroline Siwo, Nelly Siwo, Gordon Siwo, Beatrice Siwo, Wilfred Siwo, Sharon Siwo and Duncan Siwo all of Oyugis, Kenya. Uncle to Sharon Osano and Tzion Osano of Maryland and Tony and Oscar Orori of Kenya. Nephew to the late MarcellusOgwang, late Augustine Onyach, late Philip Oburu of  Kobala, Kenya and Siprina Siwo of Oyugis, Kenya. Brother in Law to Paul Moti of Kisii, Kenya.
It is the wish of the Osano family that the body of James, fondly known as "Omosh", be sent to their home at Kobala (Rachuonyo), Kenya, for burial.
There will be a fund-raising event on Saturday June 23, 2012  at  a venue to be announced soon.
CONTACTS;
Douglas Ndede ………..240-533-6343         Thomas Nyabwa.. ……240-441-9751
Ken Agwa………………..301-996-5775         Fred Orwa……………..443-629-5012
Cosmas Oreng………….301-437-5293         Fred Tala……………….301-252-2451
John Akumu…………….202-445-0245          George Anyumba…….443-600-2284
Omulo Okowa…………..410-971-0521         David Opon…………….301-385-6353
Jafred Musamba………..240-423-6364         Remy Osano………….301-433-2110
Rev. Peter Osano………301-693-3771         Rose Osano……………301-982-5556
Keens Omondi………….240-429-2976         Dickens Odhiambo…..301-979-1311
Kennedy Amollo………..240-398-0943         William Meda………….301-642-4110
Dorothy Agwa Otieno….240-483-5553         Fred Okwaro………….301-335-8120
Jane Asumo……………..240-432-1350         Chris Ogalo……………732-309-0955
Onyango Nyunja………..240-994-2818         Eba Ongele……………202-412-3989
Harry Oduka……………..240-669-7742         William Agwa…………240-550-5826
Ismael Agwa……………..301-765-4014         Evans Ogora …………201-618-7767
Dishon Opiyo…………….301-642-4813         Achari Mayaka……….240-481-5790
Andrea Onuonga………..301-346-7643         Bernard Musau……….717-825-5307
Church service and other funeral arrangements will be communicated as soon as they   are available.
For those unable to make it to the fund-raising event, banking information is as follows:
please deposit money into any Bank of America branch either in the name of REMIGIUS OSANO or in the name of HELLEN A. OSANO: Account Number: 446023305265.
Routing number: 052001633.  The address of the  Osanos is indicated below.
Thank you for your continued support.
The Osano Family
6126 Breezewood Dr. # 203
Greenbelt, MD 20770
Tel. 301-982-5556 (H),  301-433-2110 (C).