Video: Cops hunt porn Lords and officer linked to pornography business
Video: Cops hunt porn Lords and officer linked to pornography business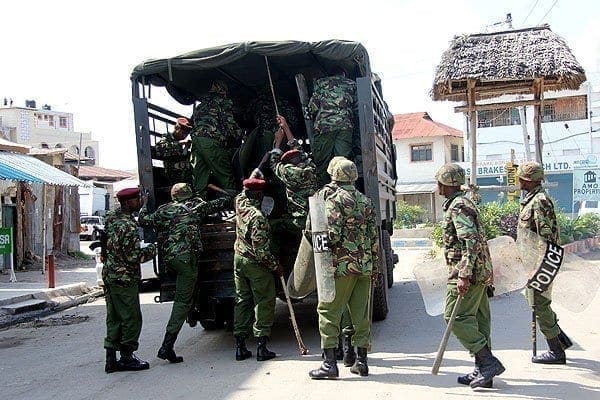 A top Anti- Banking Fraud Unit officer and a senior city cop have been linked to the thriving pornography business in Nairobi.
Police sources say the man based at the Central Bank of Kenya is a major investor in the sex sector while the security chief uses his extensive connections to offer protection. The revelations come as Kenya remains gripped by reports of alleged bestiality, which has since been denied, in Mombasa involving 11 young women purportedly at the behest of Swiss national Christoph Clement Weissenerider. In court, the women have been charged with prostitution while the foreigner is accused of luring them into it. The Twitter hash tag #PornDeDog, has been trending as Kenyans on social media express their wonder and wit.
Coast police have also alleged that the Swiss and a woman accomplice on the run have been running a similar dirty business in Nairobi, mostly to serve fee-paying foreign customers.
American pastor
The last time such an incident created so much public debate was in 2009 when Nairobi-based American pastor, Thomas Kevin Manton of Dominion International church, was accused of recording sexual encounters, purported to involve him and local girls, on DVD for commercial use. The man of God was however acquitted by chief magistrate Uniter Kidula a year later for lack of evidence. The American had pleaded his innocence, saying his accusers wanted to grab his wealth and bring down his ministry.
But as the current debate continues, our investigations indicate that a spacious cybercafe at a building near the junction of Tom Mboya and Ronald Ngala streets is a major hub for recruiting actors in pornographic videos. The facility is also used to edit and duplicate the dirty discs for mass distribution locally and internationally. Financiers, producers, marketers and actors usually meet there, but the shooting of the videos is done in multiple locations in the city centre and residential estates, mostly in the leafy surburbs.
The area of the CBD generally referred to as 'River Road' also hosts many smaller outlets for producing the videos. Indeed, it is no longer news that porn movies — many of them of poor quality — perhaps in the spirit of 'devolution', have for the last few years been produced in various local languages.
But there are others in the high-end market, who supplies well-to-do local and international customers. A porn movie producer, who talked to us on condition of anonymity, said the CBK investigator recently paid Sh150,000 down payment for a new camera as demand has been rising. He reveals that in the last four months he has given the top cop Sh140,000 protection money, but he never regrets it.
"One thing I am sure of is that I can never be raided by the cops. As long as he is around, I am safe. The top cop never comes here, but we meet at a club in Westlands," says the producer.
He says those involved in the business need protection — which cascades to the vendors.
"No vendor will want to sell your wares if they are arrested," he says.
The producer, in his late 20s, is well groomed and drinks the finest whiskeys. He drives a modest Toyota Alex and intends to import a Mark II before the year ends. His closest friends do not know what he does for a living. They think he is in the ICT business.
"I am an IT graduate. I started shooting porn for fun in campus, and in 2010 I uploaded some videos online just out of mischief. That got me thinking, why can't I sell porn? It's a job like any other job, and when the money comes, the petrol station attendant will still fuel my car irrespective of how I made my money," he said.
Homosexual movies
The producer said apart from same-sex scenes, there is a high demand for homosexual movies, which sell at double the price (usually Sh1,000). He is, however, not aware of child pornography, which he said is highly secretive.
So lucrative is the illegal porn film industry that the producer said this year he has had to shift from the 'jua kali production' and invest in state-of-the-art equipment. He said the local industry has also attracted international talent with a German producer, based at Karen C, said to be the most prolific.
Our source broke down the cost of shooting a porn video. Crews that do not have cameras hire them at Sh7,000 per day and one has to buy tapes at Sh2,000 each. Lights are on average charged at Sh8,000 per day. The male actors are paid between Sh7,000 and Sh10,000 per scene, while the female actors are paid at least Sh5,000. Our source said the male actors are more difficult to find.
The producer we talked to said he makes 80 per cent of his sales online. He also has two websites and one blog where interested buyers send him money through mobile money transfer services. Delivery of the physical DVDs is done by a motorcycle rider while customers upcountry are sent their packages of pleasure through courier.
"I charge Sh500 for normal porn movies, but to have it delivered, you have to send an additional Sh200," he said.
Porn producers know each other and they usually avoid encroaching on each other's territory.
"I know about seven other people who do what we do, and we are all competing for the same market. Presently, I have two other producers who use my channels to sell their movies. They are mainly involved in the production and they don't want to get their hands dirty by engaging in marketing," he said, but claimed that over the years international porn film producers, mostly on tourist visas, have been making one-off visits to shoot for a few weeks.
On average, he makes up to Sh100,000, after production costs from sales of the movies. In fact, the producer said like a musician who earns royalty, his old movies continue to sustain his profits for years.
Our contacts also led us to some of the porn stars. One of them, nicknamed Karua, who operates in the city centre, has acted in two porn videos. Her housemate, a stripper, has also acted many blue movies.
"I was paid Sh10,000 to act with two men," she said, adding that she will not mind doing it again, but at a higher rate.
Karua said her stripper housemate was recruited by a white customer for a group sex movie at $200 (Sh16,600)
Weird sex acts
"When she came home with the money, the next time she was to go back to the mzungu, I asked if I could come and that was my first movie. Unfortunately, the mzungu was on a short visit and he went back to Europe. I don't know if he ever sold our videos," she said.
However, another prostitute in Westlands, who has acted in two porn movies, said some of their white customers have weird demands and usually ask to film sex acts. One of them was a few years ago known to hire prostitutes for his dog at a generous amount — as long as he filmed. Other than prostitutes, university students are also said to be some of the most willing actors of porn films.
As the ongoing case in Mombasa may reveal, Kenya's connection to the international porn market, be it online or the sale of DVDs offline, appears to be growing.
In August 2011, US authorities indicated that Kenyans were among those involved in an international child pornography syndicate that thrived on the sharing of images over an exclusive members-only internet facility, Dreamboard.
US authorities then described the year long Operation Dalego as one of their biggest moves against child pornography, but the encryption of the site made it impossible to identify all those involved. It is said members shared images of adults sexually abusing children — some of them children.
Nairobi police never opened their own investigations on the syndicate even though the then city police boss Anthony Kibuchi said in August 2011 alone they had arrested at least 10 people over involvement in pornography.
Meanwhile, the sale of Kenyan porn movies appears to have grown from the hawker hiding the discs under less sleazy flicks and showing them to customers selectively, to openly selling them abroad.
Don Ochieng, a Kenyan living in Stuttgart, Germany, said one can rent porn movies supposedly shot in Kenya from adult stores — which are legal in the country.
"Unlike other international blue movies, the camera work is poor and the lighting is bad, but I think people just want to watch what they call 'native porn'," he said, adding that producers giving directions to the actors can often be heard speaking in Kiswahili in the background.
Involvement in pornography or the handling of pornographic material is illegal in Kenya. But like prostitution, it continues to thrive.
City porn hotspots
However, in the wake of the Mombasa incident, whose connection to the capital have been established, city police have mapped out areas where pornographic activities take place. Our sources indicated that parts of the city centre, Westlands and Hurlingham, host the main spots. So serious is the situation that it came up at a recent security meeting convened by Governor Evans Kidero.
Police say they had information that prominent people frequented brothels where young girls are being exposed to sex, while others are involved in producing pornographic material for commercial use.
"We are organising with the City Inspectorate to raid those brothels. It is something we discussed last week with the Governor, who was concerned," said Nairobi police chief Benson Kibue.
Source:standardmedia.co.ke
Video: Cops hunt porn Lords and officer linked to pornography business