Photos:First Kenyan High School valedictorian in Worcester Massachusetts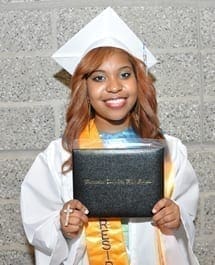 Worcester MA., The Kenyan community in Massachusetts has once more shown it's determination to be at the top.
Elaine Wawira graduated from Worcester Technical High School at the top of her class (of 300 graduates) with a 3.9 GPA marking her the class Valedictorian, the first Kenyan in New England to achieve this enviable honor.
Addressing a crowd of over 4000 that included teachers, fellow students, parents and relatives attending the graduation ceremony at The DCU Center, Elaine encouraged her fellow classmates to aim for the stars and to work even harder as the journey has just began.
Since Ms Wawira immigrated to the USA in 4th grade with her mother, she has been a straight As student all through. She attributes much of her achievements to her mother (who just graduated from Mt. Wachussetts college with an RN diploma in May) for keeping her focused.
During this short period, Elaine has been awarded and recognized by numerous organizations nationwide such as;
o Massachusetts Association of Vocational Administrators outstanding Vocational technical student award.
o National Honor Society-President
o Senior Science Award
o Telegraph & Gazette student achiever Award
o Worcester County superintendents Award
o Worcester polytechnic instate scholarship Recipient and many other awards.
The 18 years old Elaine is currently enrolled at WPI where she's taking her prep classes in readiness of her preMed program. She intends to pursue a career in Anesthesiology.
Story and Photos by James (annmedia.org)/Samrack Media