Shock:ICC dumped a witness and now his Life is in Danger in South Africa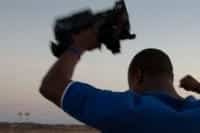 "I will not talk for long. You know I am being monitored, and these people are here in large numbers, so I will be brief," gushes the voice from the other side of the phone.
The speaker is afraid of all the Kenyan security personnel who have appeared in South Africa to back up President Kenyatta at the mass Mandela memorial that took place last Tuesday in Johannesburg.
The speaker is also afraid of Kenyatta himself. He's so scared that he's living in a secret location in South Africa. And this is his reality for an indefinite period. He had fled Kenya as a permanently injured victim of the 2007-post election violence that left over a thousand dead and hundreds of thousands more displaced.
The speaker is award-winning Kenyan TV reporter Clifford Derrick.
That evening
The journalist testified before the South African judge Johann Kriegler that on December 26, 2007, on the eve of Kenya's general election, the reporter stumbled upon a planning meeting for the election violence, which was being held in a Nairobi hotel. Suddenly he found himself alone, pummeled by a countless number of strong arms.
"They assaulted me everywhere, especially on my private parts," the journalist told Kriegler in 2008. The South African judge had been appointed by an African Union-backed deal led by former UN Secretary Koffi Annan to participate in a reconciliation process .
The attackers, he testified, were backed by Stanley Livondo, a politician who worked closely with Kenyatta, then Kenya's finance minister, to ensure victory at all costs for the incumbent Mwai Kibaki.
The attackers wanted to know how he had found them in their Nairobi South C Red Court Hotel. This was allegedly their departure point that night, before proceeding to Kibera, where they would cause enough trouble to prevent a huge number of voters from voting for their preferred candidate, Raila Odinga.
The attackers only relented after realizing that Clifford was not alone but had been accompanied by another journalist who had witnessed the planning meeting and the eventual "arrest" of the journalist.
The editors at privately owned mainstream media outlet The Standard Group, led by John Bundotich, immediately decided to send him for medical treatment because they had commissioned the reporter for the job on a freelance basis.
At nearby Guru Nanak Hospital, the doctors admitted they lacked the specialist tools that would be needed to diagnose the journalist's injuries. They only attended to the bleeding and bruises. He was to later find help from a specialist, who could only tackle some of the injuries the reporter complained about.
Struggling
Over the following days of mass killings, the journalist struggled to keep up with the unfolding story. To this day, his injuries, those to his groin in particular, have not fully healed.
Upon returning home, an unknown number of men trailed him to his residence. They attempted to break in, with only the steel door, common in Nairobi flats, keeping them at bay. After two break-in attempts on different days and a barrage of telephone threats, the journalist decided to flee, spending his first night inside a friend's car.
Exiled
The journalist fled to South Africa, where he had made acquaintances on a previous trip. But today those acquaintances aren't in the picture "because even a good Samaritan cannot wait on you indefinitely." He says he feels a trillion miles away from home and eons of years away from ever returning.
"My friend, I am on my own here. I do not have any form of support. I am depending on myself. Everyone has stopped communicating, even the ICC," he says on the phone.
The ICC Office of the Prosecutor had approached Derrick because he was a journalist who had covered the violence and had also been injured. The prosecutor wanted him to shed more light on the violence and considered using as evidence the injuries he suffered
He says Justices Kriegler and Phillip Waki – working under the mandate of a peace-brokered deal by Kofi Annan in February 2008 – had also interviewed the exiled reporter around the same period.
The reporter says he has not received any further official follow-up on his testimony. But ever since, says he's been left feeling forgotten about and used by the ICC. The court is focused on cases from Rift Valley and Naivasha, not Kisumu or Nairobi, where Derrick was attacked.
More uncertainty
Five years have passed since Derrick's traumatic experience. But he believes it is just the beginning of another uncertain five years, Kenyatta's scheduled term in office.
The post-election violence and its repercussions have not only thrown Derrick's plans into disarray but also eclipsed his achievements in Kenya. Before finding himself a fugitive, he was a celebrated local investigative reporter. He was made of the stuff that left his viewers breathless. He delivered stunning images, most memorably when he was assaulted in public by then First Lady Lucy Kibaki, who had raided and taken control of the second floor of the mainstream newspaper, the Daily Nation. Derrick managed to record the event despite the brutish behavior of the presidential guards who thought they had snatched the incriminating tape from the reporter. What they snatched was a blank dummy, while the reporter managed to get the real one broadcast on local television networks across the country.
He was on the verge of a career promotion that would see him train and employ more young reporters. But he that may now never happen. He has lost his agility, unable to walk properly, following the assault. His age advances as he waits.
At present, Derrick's mind is occupied with evading the people he refers to as his stalkers and surviving.
"I want the world to know that justice is only for the powerful and the very rich," Derrick says. "Fighting for justice is the most expensive undertaking for a human … it is the highest price."
*Joseph is a pseudonym for a Nairobi-based journalist.-kenya-today.com