Death Announcement-Baby Gabriella Kerubo Obaga of Arlington TX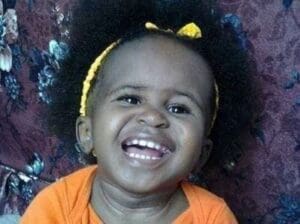 We regret to announce the death of Baby Gabriella Kerubo Obaga on January 31, 2014.
Gabriella who was born on December 19th 2011 was daughter to Phanice Nyatichi Obaga of Forthworth Texas. At birth the doctors discovered that Gabby had sickle cell trait. Baby Gabriella was healthy for about two months when her mom realized she could not stand on her feet and could not hold her head up.
It is then that she took her to a primary care doctor for a check up. When she was 4 months old, the primary doctor recommended therapy at Early Childhood Intervention ( E C I ) who attended to her at home.
Gabriella continued with therapy with other companies like children house of Baylor, Therapy 2000, among others. At the age of 10 months, she was able to sit on her own.
She was getting healthy and she celebrated her 1st birthday. However, Phanice realized that Gabby had started having shortness of breath coupled with a loss of appetite and reduced interest in playing. That's when she rushed her to Cooks Children Fort worth Hospital emergency.
After some tests and a chest x-ray, she was diagnosed with Dilated Cardiomyopathy a condition where the heart is enlarged.  She was admitted in intensive care unit ( I .C. U ) on June 1st 2013 and since then she's been in and out of hospital making it hard for mom to work.
During the hospitalization, Gabriella could not eat and the doctors hooked her to a feeding tube. She had surgery on July 27, 2013 and the doctors at Childrens Medical Center considered a heart transplant.  However she did not qualify because she had chromosomes abnormality and a diagnosis of delayed developments.
All through she was on a number of medications to help her heart. Gabby was given home-health nurse that taking care of her in the house. Celebrated her 2nd Birthday and new year.
On January 3rd 2014 her condition worsened and she was taken to Children Medical Center Dallas and admitted in I.C.U where she passed on January 31st 2014.
Please join us for a fundraiser at Metro Church,1211 Thannish Dr, Arlington, TX, 76011 on Saturday, Feb 8th 2014 as from 7pm.
There will be meeting at Phanice's residence at 2505 Hollande Circle Apt B, Arlington TX 76010 daily from 7pm. Phanice is also on Facebook at this link…https://www.facebook.com/Phancy.ob1
To assist in meeting expenses towards the funeral, you can deposit funds at:
Account Name: Phanice Obaga
Name of Bank: American Airline Credit Union Bank
Account Number: 804524938
Funeral arrangements are as follows:
-Visitation is set for 02/15/2014 at Greenwood Funeral Home -1221 E. Division Street, Arlington TX 76011 beginning 10am
-The funeral service will be held on 02/16/2014 at Metro Church,1211 Thannish Dr, Arlington, TX, 76011 from 1PM to 4pm.
-Burial takes place at Mt. Olivet Cemetery 2301 N Sylvania Ave, Fort Worth, TX 76111 immediately after funeral service.
Contact Persons
Gladys Onkundi 8178106784
Walter Omwenga 8173135689
Phanice Obaga 4693590026
Evans Nyakundi 8174495307
Justine Makori 8173230329
Benard Guto 8172879845