Former PM Raila Odinga denies building Sh1 billion home in Kisumu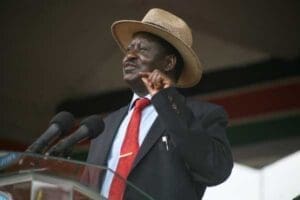 KISUMU, KENYA: Former Prime Minister Raila Odinga has denied putting up a Sh1 billion home in Kisumu saying the construction in question is the headquarters for his foundation.
Reacting to a story that appeared in a section of the press Saturday, Raila's spokesman Denis Onyango said the building is expected to be the headquarters of the Raila Odinga Foundation and its twin institution, Green Outreach Foundation Africa both of which are yet to be formally unveiled.
The institutions are currently operating from small offices in Nairobi. "Apart from hosting the Raila Odinga Foundation and Green Outreach, the building coming up in Kisumu will also provide conference, media, recreational and office facilities for hire and rental by the public on completion," Onyango said.
In denying building a residence with over 70 rooms, Raila's spokesman added that the building will host a library and archival information covering the timeline of Odinga's years in public life.
The building is located in an area overlooking the Kisumu International Airport.
standardmedia.co.ke