Two arrested with grenades in Eastleigh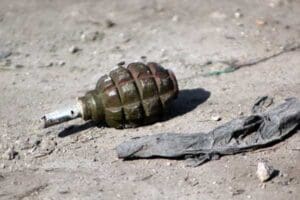 Two suspects were found with two grenades during a security swoop in Nairobi's Eastleigh estate Tuesday night, police have said
Nairobi County police commander Benson Kibue said a total of 400 suspects were arrested in the operation.
On Monday night, a total of 657 people were arrested following the Monday evening blast in Eastleigh which left six people dead and dozens others seriously injured.
The blasts occured occurred at two cafes, Sheraton Cafe and The New Kwa Muzairua Super Grill Centre, that are 300 metres apart along Eastleigh's 11th Street.
Most of those injured in the explosions were taken to Mother and Child Hospital, Guru Nanak Hospital and Kenyatta National Hospital, where 20 victims were admitted.
On Wednesday, police said six victims of the Monday blast are still admitted in hospital.
Interior Cabinet Secretary Joseph Ole Lenku said a security operation launched in Eastleigh would continue until the perpetrators of the attack are brought to book.
In a statement, Mr Lenku asked residents to cooperate with security personnel and volunteer information that will assist in arresting the culprits.
-nation.co.ke