Maina Njenga survives gun attack,five killed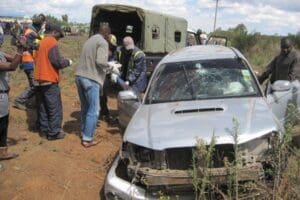 Former leader of the outlawed Mungiki group Maina Njenga Saturday survived a gun attack that left five people in his two-car motorcade dead.
Mr Njenga suffered bullet wounds on his left hand and right shoulder when the two vehicles were sprayed with bullets at Ol Jororok-KARI farm turnoff along the Gilgil-Nyahururu road, seven kilometres from Nyahururu town.
He and three other people who sustained bullet wounds were taken to the Nyahururu District Hospital where they were admitted in serious condition. Njenga's friends were, however. making arrangements to later transfer him to a Nairobi hospital.
Three men and a woman died on the spot – including the two drivers of a Toyota Premio and a Subaru Forester, both metallic grey. A fifth victim died in hospital.
The ex-Mungiki leader was travelling in the Subaru Forester, which rolled several times after going off the road when it was shot at.
A woman in the same vehicle with Mr Njenga died from the rolling impact since she was not shot at, police at the scene said.
The Subaru had 25 bullet marks on its body while the other vehicle had nine visible holes on its body. Other bullets had shattered side windows.
The two vehicles were headed to Nyahururu from Nairobi when the attack happened.
NOT CLEAR WHAT TRANSPIRED
Nyandarua County Police commander Mr Hamisi Mabeya who was accompanied by the County CID boss and Nyandarua West district deputy County Commissioner Mr Paul Famba, said it was not clear what transpired
He appealed to anybody who might have witnessed the shooting to help police with information.
One person who arrived at the scene soon after the incident said Njenga walked himself out of his vehicle into the one that rushed him to hospital. The other victims had to be helped out.
Scene-of-crime police officers collected items from the bodies in a bid to identify the victims. The driver of the Subaru Forrester was identified as Evans Wachira Maina.
The incident attracted a large crowd of onlookers who mostly travelled from Nyahururu town to the scene about seven kilometres away.
The area usually has very few people since on either side of the road are two government firms – on one side is KARI farm while opposite is the new site for Animal Health Industrial Training Institute (AHITI) farm.
At the Nyahururu hospital, Mr Njenga and the other two surviving victims – a man and a woman – were taken to the casualty section before he was taken for x-ray and later admitted at the hospital's male ward.
The woman appeared to have been shot on the stomach and the man had a shattered leg.
 -nation.co.ke