Photos:Uhuru Roadside meeting in style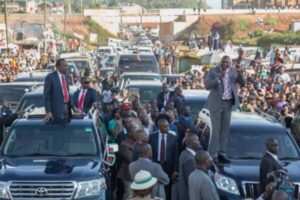 President Kenyatta  stopped over at Kikuyu Town from Alliance High School where he attended a prayer service.
Addressing wananchi on the road side,he said that the removal of British tourists from Kenya was not done in good faith. When they were attacked in their own countries they were asking for help. But when Kenya is attacked they run and abandon us instead. The tourism industry in Kenya will be resilient. We will defeat these criminals by remaining united and live as brothers and sisters as we have been doing he added.