Video:Jasper's Medical Funds-Help him walk again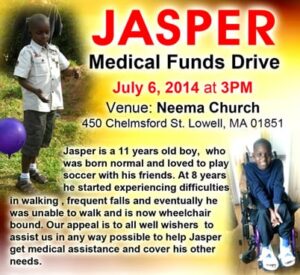 Jasper is a 12 years old boy, who was born normal just like any other child and loved to play soccer with his friends. At 8 years he started experiencing difficulties in walking , frequent falls and eventually he was unable to walk and is now wheelchair bound."It was so devastating since we had no clue what was happening"
After visiting several Hospitals in Kenya the Doctors gave up and informed us there was no more treatment available for him locally.
The Boston Children's Hospital in USA gave us hope and accepted to take up his case and had to pay a deposit of $5400 before they could send us the appointment letter to secure a visa at the Kenyan Embassy. Luckily enough we got our visa on 3/19/14 and arrived here in USA 3/31/14
After a few appointments our deposit run out and all his future appointments have been cancelled due to outstanding bills, We have since applied for MASS HEALTH and it has not yet gone through. Jasper has a referral for a customized electric wheelchair. With that kind of chair he will also require a wheelchair accessible van for transportation.
Our journey has been tough and we are thankful to the Lord and to well wishers who have given us accommodation for the time being and still it is not easy since Jasper have to be carried around on my back anytime he wants to use the bathroom or bed since they are on a separate floor.
If possible we would also require a first floor apartment to ease the movements of bringing him up and down
Our appeal is to all well wishers to assist us in any way possible to help Jasper get medical assistance and cover his other needs.
A fund drive have being organized to help us and it will be held on JULY 6 at 3pm @Neema church in Lowell MA 01851
any help will be appreciated
for more info visit samrack.com
For any questions please feel free to contact me at 978-397-7370
ACCT #BOA 004646289595
Irene Njoki
Jasper's mother
May God bless all
-http://samrack.com/