Emmys 2014 – Full List of Winners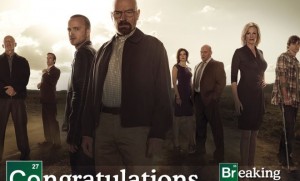 The 66th Primetime Emmy Awards were broadcast Monday evening on NBC. The awards ceremony was hosted by Seth Meyers at the Nokia Theatre in Los Angeles. Presenters at the 2014 Emmys included Halle Berry, Bryan Cranston, Viola Davis, Zooey Deschanel, Jimmy Fallon, Julia Louis-Dreyfus, Woody Harrelson, Allison Janney, Adam Levine, Lucy Liu, Julianna Margulies, Matthew McConaughey, Jim Parsons, Amy Poehler, Julia Roberts, Andy Samberg, Octavia Spencer, Gwen Stefani, Sofia Vergara, Kerry Washington and more.
Of course, what everyone really wants to know is who took home a statue. "True Detective" actors Woody Harrelson and Matthew McConaughey were going against each other in the Outstanding Lead Actor in a Drama Series. They weren't the only ones up against each other for the same project in the same category. HBO's movie "The Normal Heart" had four actors in the Outstanding Supporting Actor in a Miniseries or Movie category: Jim Parsons, Matt Bomer, Alfred Molina and Joe Mantello. But who won the coveted Emmy statue?
See our full list of 2014 Emmy winners below:
Outstanding Supporting Actor in a Comedy: Ty Burrell, "Modern Family"
Outstanding Writing for a Comedy: Louis C.K., "Louie"
Outstanding Supporting Actress in a Comedy: Allison Janney, "Mom"
Outstanding Guest Actor in a Comedy: Jimmy Fallon, "Saturday Night Live"
Outstanding Guest Actress in a Comedy: Uzo Aduba, "Orange is the New Black"
Outstanding Directing for a Comedy: Gail Mancuso, "Modern Family"
Outstanding Lead Actor in a Comedy: Jim Parsons, "The Big Bang Theory"
Outstanding Lead Actress in a Comedy: Julia Louis-Dreyfus, "Veep"
Outstanding Comedy Series: "Modern Family"
Outstanding Reality Competition Program: "The Amazing Race"
Outstanding Writing in a Miniseries, Movie or a Dramatic Special:Steven Moffat, "Sherlock"
Outstanding Supporting Actress in a Miniseries, Movie or a Dramatic Special: Kathy Bates, "American Horror Story Coven"
Outstanding Supporting Actor in a Miniseries, Movie or a Dramatic Special: Martin Freeman, "Sherlock"
Outstanding Directing in a Miniseries, Movie or a Dramatic Special:Colin Bucksey, "Fargo"
Outstanding Lead Actor in a Miniseries, Movie or a Dramatic Special: Benedict Cumberbatch, "Sherlock"
Outstanding Lead Actress in a Miniseries, Movie or a Dramatic Special: Jessica Lange, "American Horror Story"
Outstanding Miniseries: "Fargo"
Outstanding Television Movie: "The Normal Heart"
Outstanding Writing for a Variety Special: Sarah Silverman, "We Are Miracles"
Outstanding Directing For A Variety Special: Glenn Weiss, "67th Annual Tony Awards"
Outstanding Variety Series: "The Colbert Report"
Outstanding Supporting Actor in a Drama: Aaron Paul, "Breaking Bad"
Outstanding Directing in a Drama: Cary Joji Fukunaga, "True Detective"
Outstanding Supporting Actress in a Drama: Anna Gunn, "Breaking Bad"
Outstanding Guest Actor in a Drama Series: Joe Morton, "Scandal"
Outstanding Guest Actress in a Drama Series: Allison Janney, "Masters of Sex"
Outstanding Writing in a Drama Series: Moira Walley-Beckett "Breaking Bad"
Outstanding Lead Actress in a Drama Series: Julianna Margulies, "The Good Wife"
Outstanding Lead Actor in a Drama Series: Bryan Cranston, "Breaking Bad"
Outstanding Drama Series: "Breaking Bad"
– nairobiwire.com