Governors meet as colleagues from TNA want out of referendum push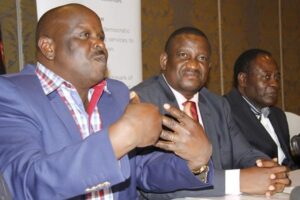 Governors' push for a referendum could run into head winds after it emerged that those from the Jubilee Alliance, mainly The National Alliance, are chickening out due to local political pressure.
On Saturday, TNA, the dominant political outfit in Mt Kenya region, said it will soon call for internal consultation on the matter and take a clear position which all its elected and nominated leaders must strictly adhere to or face unspecified consequences.
And the Council of Governors has now called a key meeting tomorrow in Nairobi over the matter, even as majority maintained they will push for referendum.
Monday's meeting will bring together 46 governors, their deputies, leaders of majority and minority in the assemblies and their whips.
Only Embu Governor has officially denounced the referendum and is not expected at the Safari Park meeting.
The Monday meeting will be followed by another next weekend called by County Assembly Speakers Forum that will bring together all the more than 2,000 MCAs.
"We have called a meeting on Monday to consult. But our resolve to proceed with the referendum will not be watered down by any form of blackmail and intimidation by some elements in Jubilee," said the Council of Governors Chairman Isaac Ruto.
The Bomet governor admitted that the Jubilee governors are under constant intimidation by powerful forces in the government and their agents to surrender the referendum push.
He, however, declined to discuss the change of heart by some governors from Mt Kenya region, a move that could weaken their push.
"There are threats from TNA and URP but it should be clear that we are pushing an agenda that is not political. It has got nothing to do with the political one being managed by Cord," Mr Ruto stated.
Already, Nyeri Governor Nderitu Gachagua, who is chairing a crucial team of the governor's Pesa Mashinani campaign, has indicated that they may review their position following the realisation that Cord's referendum push has gained millage out of the governors new referendum idea.
"Our aim for the referendum is different from that of Cord. If we realise that our agenda is being hijacked, we may reconsider our position," Mr Gachagua said in a radio interview.
The governor, himself of the GNU party, leads a county with a majority of MCAs coming from TNA and is said to be under pressure to give up the push seen to be a ploy by the opposition to undermine President Uhuru Kenyatta's government. GNU is a Jubilee affiliate.
"County governments are clearly unable to spend what they have. Their absorption capacity is wanting. In Nyeri there are so many issues and the governor and his office have not done much with the money allocated," said Dr Wahome Gakuru, who was eyeing the governor's seat on the TNA ticket.
Dr Gakuru argued that it is unfair for Mr Gachagua to lead a political push meant to undermine the President in his backyard.
REFERENDUM DESIGNED BY THE OPPOSITION
"It is very disturbing for the people of Nyeri that our governor wants to associate with a referendum designed by the opposition to bring down President Kenyatta and to undermine his leadership," Dr Gakuru said.
The former Vision 2030 chief said most governors are veering off the development path and warned that Central has been largely affected and that the region may get nothing out of the billions of shillings allocated through the devolved units.
"Corruption has doubled, unnecessary trips coined, money spent on employing unnecessary staff while transparency has disappeared," Dr Gakuru said.
TNA Secretary General Onyango Oloo said the party would hold internal consultations to develop a common stand.
"We have internal caucuses who will be consulating. We will take a common position and officially communicate the same to our members. When we do, all our elected leaders will be expected to be bound by it .Violators will then be dealt with accordingly," Mr Oloo told Sunday Nation.
President Kenyatta has already pronounced himself on the matter, opposing calls for referendum while majority leaders from the Jubilee side in Parliament, Prof Kithure Kindiki and Mr Aden Duale, have warned of dire consequences against governors supporting the referendum calls.
But Kirinyaga Governor Joseph Ndathi declared that Jubilee governors would not back down despite threats from their party, adding political implications of the referendum would be grave for the ruling coalition.
Mr Ndathi said that just because they were elected in the coalition's tickets did not mean that they will sit by and watch the government scuttle devolution.
"We are not going to be court poets just because we were elected on Jubilee ticket. Even if it means losing our seats let it be; but we cannot watch the government mess up the Constitution and keep mum," said Mr Ndathi.
He added: "Whichever way the results go, we know that every referendum usually gives birth to a baby and this is not going to be the exception. Those who are trying to play hardliners will themselves be on the roadside come the next elections."
"My destiny rests with my God and the people of Kirinyaga. When you throw a stone in the valley you do not know what it will hit. The government should do what it is supposed to do instead of issuing threats".
Samburu Governor Moses Lenonkulal said that governors in the Rift Valley and in the marginalised areas would not be swayed out of the referendum push no matter the pressure.
COLLEAGUES FROM MOUNT KENYA
"Our colleagues from Mt Kenya may pull out because they are already developed. Samburu people need this money and no one can convince me to drop support for the referendum," Mr Lenonkulal told the Sunday Nation.
Members of the County Assemblies in the North Rift are divided, with some dismissing a referendum as a waste of time and resources and claiming governors were out to misuse them for selfish reasons.
"We cannot be misused by governors to rubber stamp their personal agenda since referendums have in the past proved to be avenues to form new political parties," claimed Elgeyo Marakwet minority leader Benson Kiptire.
The MCAs instead want the governors to dialogue with the national government on distribution of natural resources and equitable financial allocations to spur development.
"The governors and opposition are driven by personal agendas in their drive for referendum that will turn retrogressive to the socio-economic and political development," claimed Mr Kiptire.
But MCAs in Baringo have drummed up support for the referendum sponsored by the Council of Governors.
Led by Deputy Speaker Douglas Kiplimo, they have vowed to oppose the formation of County Development Boards, recently assented to by President Kenyatta.
"This is not about Jubilee or Cord or any political affiliation. All we want is to fight for the rights of our people who elected us and not to satisfy our personal interests," said Mr Kiplimo.
In Bomet, Kipsigis  Council of Elders and more than 500 opinion  leaders  from  the county yesterday backed the governors' agenda to have increased budgetary allocation.
The elders said they had witnessed progress since devolution and that things would get even better with more funds.
Meanwhile, New Ford Kenya is calling for consultation between the government and the governors to end the stalemate. Party leader Eugine Wamalwa said it was too early to audit the Constitution and pointed out that such move should only be undertaken by August of next year.
"Kenyans are not ready to go through such expensive exercise when it is clearly stated  that the Constitution will only be audited by August next year" Mr Wamalwa said.
Also reported by  Barnabas Bii, Flora Koech and Francis Mureithi
-nation.co.ke