Isaac Ruto dares Jubilee to expel him over referendum stand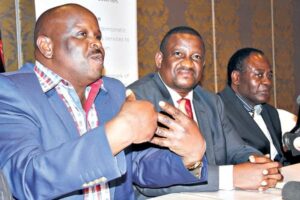 Bomet Governor Isaac Ruto on Monday stood his ground, saying he was not afraid to be expelled from the Jubilee Coalition because of his campaign for a referendum to increase money to the counties.
He said he was operating independently and that the threats to expel him were baseless.
"I will continue fighting for the rights of Kenyans without fear or favour. I resolved to push for a referendum after Jubilee declined to heed our plea for more funds," he said.
He said the ruling coalition of TNA and URP had never met since they came to power, yet Majority Leader in the National Assembly Adan Duale had been saying that a decision to increase allocation would have to come from a national delegates conference.
Mr Ruto, who was speaking during the homecoming party for Nakuru Deputy Speaker Joseph Tanui, accused Jubilee of peddling falsehoods that he was supporting Cord.
"I am not Cord or in Cord and neither do I support Okoa Kenya. But I can welcome ideas from any quarters, Cord included, if they are good," he said.
He said it was wrong for the government to demonise Cord by attributing every ill bedevilling the country to it.
The governor said Jubilee should learn from history that a good coalition could be broken by a few "blue-eyed boys", claiming that there was a Jubilee "skyteam" of five who wanted the coalition to collapse.
"They are misinforming President Kenyatta and his Deputy William Ruto on various issues and this is what will kill Jubilee."
Mr Ruto specifically accused Mr Duale, Senators Kipchumba Murkomen and Kithure Kindiki of spreading "venom" in the country and reiterated his respect for President Kenyatta and the Deputy President.
He said those accusing the governors of misappropriating funds were worse "because there is Sh8 billion and another Sh300 billion that was lost in their hands".
Contacted, Prof Kindiki said: "Nobody in this age and time can be interested in expelling people from a political party or coalition. As Jubilee we took a position which is that we do not support the referendum.
"Those who do not agree with our view have the freedom to take contrary positions. The consequences are that along the way, one would have abandoned the party position and as we all know, choices have consequences."
Mr Murkomen said he had never been involved in "any hatred" towards the Bomet governor.
"Isaac (Ruto) is just a fugitive running away from accountability. He is clutching on every straw he can to avoid being questioned over expenditure of money. He knows that majority of governors have denounced the referendum and there are others who have gone to court to avoid being questioned," he said.
He continued: "All we know is that in due course, Isaac's push for a referendum will merge with Raila's. It is a grand scheme."
But another governor seemed to be wavering in his support for the various referendum initiatives.
Mombasa's Hassan Joho on Monday asked leaders to stop putting the country in an election mood.
His statement came amid fears in Okoa Kenya Campaign that the Jubilee planned to go to court to block the collection of signatures, an important step in a referendum.
Mr Joho, a senior member of Cord, argued that there was no need to start soliciting for votes when there was no election in the offing.
"I am not seeking any votes as I know the election is in 2017 and it's our responsibility as leaders to lead by example in serving our  people and especially women in their campaign to achieve economic independence," he said at the Government Training Institute, Mombasa.
On Sunday, Nairobi Governor Evans Kidero said the referendum should be the last option for both Cord and governors since the Constitution had alternatives for solving the current challenges.
Most governors in TNA, whose leader is President Kenyatta, have withdrawn from the referendum claiming they are following the decision of their voters.
At least six URP leaders — the Deputy President's party — have pulled out of the quest for the referendum with indications that some more will withdraw.
On Monday, the Okoa Kenya team told of a plot by forces opposed to the referendum to go to court to block the collection of a million signatures.
Mr Paul Mwangi, the chairman of the initiative's technical committee, said he had information that the anti-referendum forces planned to go to court tomorrow to block the collection of signatures on grounds that the Cord quest was not backed by a referendum question.
He appeared to be referring to claims by President Kenyatta's party last weekend that Okoa Kenya was breaking the law by collecting signatures from Kenyans without providing a referendum question.
"Those planning to challenge our campaign to collect one million signatures without providing a referendum question are doing so out of ignorance of the law. The issue of providing a question only applies in a referendum conducted under section 49 of the Elections Act. This type of referendum is very different from the one anticipated by our process under Section 257 of the Constitution," he said.
-nation.co.ke/