More Drama:Machakos deputy governor Kiala's office vandalised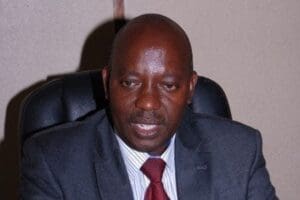 Machakos County deputy governor Bernard Kiala got a rude shock Wednesday when he resumed his office to find it vandalised.
Kiala resumed office some days after the senate defeated a motion to impeach him.
On arrival at about 12pm, the deputy governor could not believe his eyes when he found the door broken and all office furniture having been removed.
Not knowing what to do, Kiala also found his secretary missing and immediately called the Press after he failed to get anyone to explain what transpired.
Monday, Machakos Governor Alfred Mutua, stripped Kiala of all his ministerial responsibilities, saying he had failed to perform. He then appointed Boniface Kabaka as the head of the new docket of legal and strategic advisor to the governor. Both Kabaka and Kiala come from Masinga sub-county.
After addressing the Press, the disappointed Kiala condemned the action saying it was malicious, primitive and a big mockery.
He wondered why the governor allowed this be done to him even after being pardoned by senate.
However, Kiala said he had forgiven all those who were behind his tribulations saying he would leave everything to God.
Kiala said he will not take any legal action but will consult Wiper party leader Kalonzo Musyoka and other Ukambani leaders to reconcile him with the governor.
"I was not coming for any more war but to work with the governor for the sake of the people of Machakos and reconcile for whatever misunderstanding may have occurred," said Kiala.
Contacted, the county secretary Francis Mwaka, said on phone that Kiala's office was under renovation and that they didn't know it could not have been finished before the dust settled down.
Mwaka denied any malice or frustration on Kiala.
He however, could not tell whether they had allocated the deputy governor an alternative office.
As a result, Yatta MP Francis Mwangangi has suggested that Kiala better quit the office to rid of the frustrations.
"Since it's clear that he cannot work with his governor, the best option is to go home and start other things and forget about the seat," said Mwangangi accusing Kiala of having started his problems.
"Infact the governor Dr Mutua is not to blame for whatever scenario since his deputy started the war he was not sure to win," he added.
-standardmedia.co.ke