MORE JUBILEE GOVERNORS DEVELOP COLD FEET OVER PUSH FOR NATIONAL REFERENDUM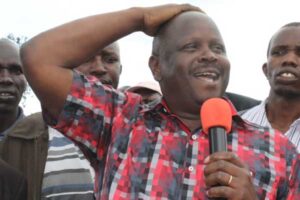 Kenya: Some Jubilee governors in the Rift Valley have beaten a hasty retreat over their push for a national referendum for fear of reprisals from the coalition's leadership.
The Standard on Sunday has established that some governors have quietly disassociated themselves from the agenda being pursued by the Council of Governors (COG) to avoid being branded sympathisers of the Coalition for Reforms and Democracy (CORD) which is the opposition alliance.
Several governors  interviewed said although they want more funds from the national government to be allocated to counties, they do not wish to be seen as going against the wishes of President Uhuru Kenyatta and his deputy William Ruto.
The two leaders have dismissed calls for a referendum on grounds that it would be too costly to the Government, and thereby derail the implementation of Jubilee's pledges to the electorate.
They have also said it was too soon for the country to engage in another round of political campaigns.
The Jubilee government has insisted that governors and Members of County Assemblies (MCAs) allied to the ruling coalition disassociate themselves from calls for a referendum, and said supporting the plebiscite was as good as backing Opposition ideologies.
Majority leaders in the Senate and National Assembly – Kithuri Kindiki and Aden Duale – have warned governors not to support the call by the council.
A number of governors, especially those from the The National Alliance (TNA) and the United Republic Party (URP), have heeded the call and are gradually backing off the referendum push.
Nyandarua Governor Mwangi Waithaka was the first to break ranks with the COG last week.
"Our support for the Jubilee Government and the President is unequivocal. I am aware that  there are some Jubilee leaders who may have fallen to the CORD trap and are asking for a national referendum merely to undermine the current leadership," he said at Njabini Good Shepherd Catholic Church in Kinangop sub-county.
Waithaka defended the council over its clamour for a national referendum to demand the allocation of more funds to counties,  but said he was uncomfortable that CORD had called for another referendum on constitutional amendments whose agenda was to clip the wings of the Uhuru administration.
Governor Kinuthia Mbugua (Nakuru), tactfully said he needed more time to consult with the party and his electorate on the way forward. Nakuru, though cosmopolitan, is a Jubilee stronghold.
Mbugua, who has openly stated that he has no intentions of antagonising the President, said he would go with the wishes of the electorate.
Kirinyaga's Joseph Ndathi has also joined the growing list of governors who have developed cold feet over the push for a referendum. Ndathi, who attended a TNA caucus held on Wednesday, said he would abide by the party's decision on the matter.
-standardmedia.co.ke