Uhuru meets former US President George Bush/Texas business group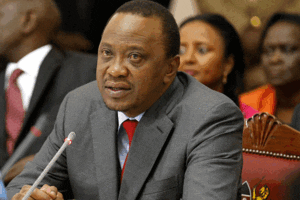 President Uhuru Kenyatta on Friday met with former President of the United States George W. Bush.
The private meeting between President Kenyatta and Mr Bush took place at the George W. Bush Presidential Centre in Dallas, Texas.
After the meeting with Mr Bush, President Kenyatta was taken on a tour of the George W. Bush Presidential Library by its director Alan C Lowe.
The President then went into a luncheon within the Center hosted in his honour by a group of Texas business people in collaboration with the United States-East Africa Chamber of Commerce.
The luncheon was attended by a select group of business executives mainly from Texas and included others from New York.
Addressing the participants at the luncheon, President Kenyatta said he held fruitful discussions with Mr Bush, who during his tenure in office dedicated massive US aid to combat HIV/Aids in Africa.
"It was a great moment to meet up with him. He is a man who has done so much in the fight against HIV/Aids," he said.
President Kenyatta told the business executives that Kenya was an investment destination that never disappoints.
"We have one of the best established financial sectors in Africa second only to South Africa coupled with one of the best educated work force you will ever find on the continent," he said.
The President said investments in Kenya have one of the best returns in the world and urged the business executives to take up opportunities to invest in the infrastructure, ICT and energy sectors.
The business executives included the Chief Executive Officer of Moneygram, Pamela H Patsley with whom President Kenyatta held a separate meeting after the luncheon.
"When it comes to business, Texas businessmen are recognized as the engine of the American economy, I urge you to bring more business to Kenya," he said.
He told the Americans that his mission to the US was to build on the bonds of friendship that have existed in Kenya even before independence.
"The United States supported our struggle for independence and many of our independence leaders were educated in the US," he said.
The President said his meetings with other business executives in Washington have been successful with many commitments by US firms to invest in Kenya.
"General Electric is keen to partner with us in the health sector to increase access to quality health care for Kenyans," he said.
He said a great deal of interest was also shown by major US corporations in Kenya's energy sector.
"The diversification of power generation is also an area where we want American companies to play a role," he said.
The President said his Government's policy was to put more effort in increasing the production of green energy.
"Very soon our total geothermal power production will rise to 1000MW but we require additional investment to make it even more," he said.
-nation.co.ke