"Funeral Tourism" How in Kenya funerals are all about the journey, food and new places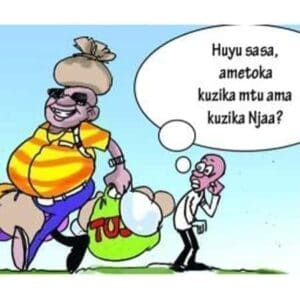 Has it ever occurred to you that one of the biggest reasons why Kenyans travel to far flung places, especially to counties they have never visited is to attend funerals?
A spot check on Kenyan roads by Crazy Monday revealed that a relatively big percentage of people who travel in groups always comprise of those going to attend funerals. In fact, there are more Kenyans who go for funerals in different counties than those who visit places they have never visited before for holiday or business trips.
Peculiar as it may sound, many Kenyans would attest to the fact that the furthest places they have visited in this country was to attend a funeral. When someone dies in an urban area, its common to see their colleagues who may have never been to the deceased's rural home making arrangements, and tagging along friends and relatives who may not even know the deceased, to attend their funeral.
 Experience weird rituals
What would people who don't know the deceased be doing at their funeral? One may wonder. Besides going to give them a send off, among the many other reasons Kenyans attend funerals is to experience the weird rituals which vary from one community to another.
Some communities take burials too seriously and have elaborate, unique rituals which these tourists go to witness and even take pictures. Tales abound of communities that bury leaders in an upright position, others bury the old geezers in a sitting position. Tales have been told of Kenyan communities that flog the dead who committed suicide, an incident that some people would find very entertaining. Wouldn't such weird things attract a stranger to a funeral?
Needless to say, there are a couple of other tourist attractions that lure Kenyans to places they have never visited. For instance, cheap or rare food. Little wonder then that when Kenyans go for funerals in far flung places, they always come back with a lot of food including things like chicken. Some even return with household pets.
Lucas Tiampati, a civil servant in Nairobi for instance, says he bought his two dogs in Kakamega County while attending a funeral.
"A colleague had a funeral and we travelled to his ancestral home in Kakamega. After the funeral, when strolling around, we stumbled upon a market that specialises in selling dogs, called Lubao. The prices were so ridiculously low that I had to buy some of the puppies," says Mr Tiampati.
bags of food
Not long ago, when I travelled to Bomet County for a funeral, upon my return as I was parking my car, my neighbours who had just arrived from a funeral in Migori County were busy offloading huge bags of food from their boot, which made me wonder whether they had actually gone to attend a funeral or to shop for rare and cheap food items. It turns out that this is a very common trend among Nairobi mourners who attend village funerals.
boosting rural economies
Thinking back to events that preceded other funerals I have attended across the country, I realised there is something unique about friends, relatives and associates who travel to rural areas to attend funerals; the majority return with stories of strange experiences. Usually, they will come back to the city having bought car loads of produce along the way. They boost rural economies with their bulky purchases that include fruit, dry/green maize, beans, chickens, milk, millet, tomatoes, potatoes, onions and pumpkins among many others. A lot of money exchanges hands on these funeral trips.
Attractive tourist destinations
And Kenyans are not alone in this, it's very common in many other places. Take Indonesia, for instance. This kind of tourism has promoted the country as one of the most attractive tourist destinations in the world. Funerals are one of the biggest tourism earning projects and the socio-economic benefits are already being felt across the nation.
The Torajan people are known throughout Indonesia for their elaborate funerals that include water buffalo sacrifices and for their unique cave and rock graves. Although Christianity came to the region at the turn of the last century, Torajans have continued following many of their ancestors' rituals.
Funerals are part of daily life in Rantepao, in fact everyone knows when a funeral is happening. And many people attend not necessarily to mourn but to experience the strange rituals. At some point, a tourism campaign sponsored by the Indonesian Government through a documentary film series 'Ring of Fire: An Indonesian Odyssey' cast the spotlight on Toraja.
Kenyans can exchange cultures
The Tourism Board of Kenya should take this matter seriously, and promote it as a way through which Kenyans can exchange cultures.
They can do it by coming up with special arenas in regions where communities have elaborate burial rituals, and deck them out complete with VIP pavilions. It may turn out to boost not just local tourism but also market Kenya globally, with foreigners thronging the said arenas to experience Kenya funerals.
-standardmedia.co.ke