I was coached – ICC witness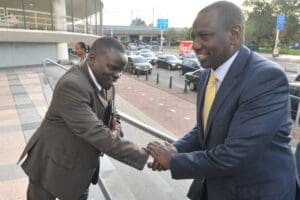 AN ICC witness yesterday said he was coached on what to say against Deputy President William Ruto.
The witness said a woman who recruited him as a witness called him several times in June 2013, a month before his interview with the prosecution.
"The lady would call me and remind me to say this and that when I meet the investigators. The recruitment (of witnesses) involved all the explanation I am giving," said witness 406.
He said he had not included this in his affidavit when recanting his testimony because he was only giving the "general information" on why he was withdrawing as a witness.
The witness said he was asked to include some of the details in the initial statement by the woman.
Ruto and Joshua arap Sang are charged with crimes against humanity in connection with the 2007- 08 post-election violence.
The witness, who was giving his testimony via videolink from Nairobi, retracted his July 2013 statement that he witnessed looting during the violence.
He said he invented his testimony so his statement would appear "believable".
"I said that (looting of pregnant cows) to justify my statement because the Kikuyus around Turbo were known to keep such cows," the witness said.
He denied attending an alleged planning meeting at Ruto's Sigor home and hearing Ruto incite Kalenjins against the Kikuyus.
The witness said he invented the story to punish Ruto and show that he had incited people against the Kikuyus.
– the-star.co.ke