Photos:Police arrest five over chaos at Uhuru rally
Five people have been arrested and are being questioned by police in relation to the violence and heckling that marred Monday's presidential function in Migori County.
The county's security team is also reviewing television footage of the function held at the Migori Primary School grounds.
The footage is expected to help police identify youths who hurled shoes at the presidential dais while chanting ODM slogans.
President Kenyatta was in the county to launch a Sh7 billion mosquito-net distribution campaign.
"We are still looking for more and we have important leads," Mr Clement Gatogo, the county police boss, told the Nation on Tuesday.
"We will finally get all of them and we ask members of the public who know their whereabouts to inform us," he added.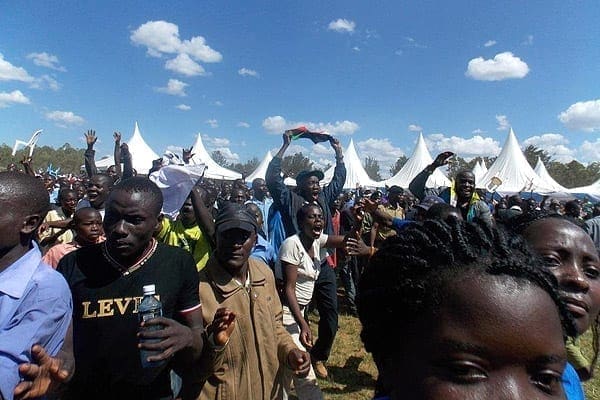 The meeting turned chaotic after youths started throwing shoes and shouting party slogans. Some people were injured in the stampede after the chaos started. PHOTO | CORRESPONDENT
Migori Governor Okoth Obado and the 60 members of the Migori County Assembly have accused unnamed leaders of inciting young people to disrupt development programmes in the county.
"Our investigations have revealed that there were hired youths with express intentions to spoil the function. We are going to deal with the leaders because we cannot continue accepting to be held at ransom at them. My patience has run out," said Governor Obado.
"I am greatly saddened by what happened and on behalf of the people of Migori, I sincerely apologise to the President and other dignitaries who were present. It shall never happen again in future," the governor told journalists at a news conference in Migori Town.
Mr Obado said President Kenyatta meant well for the country, including those areas that did not vote for him.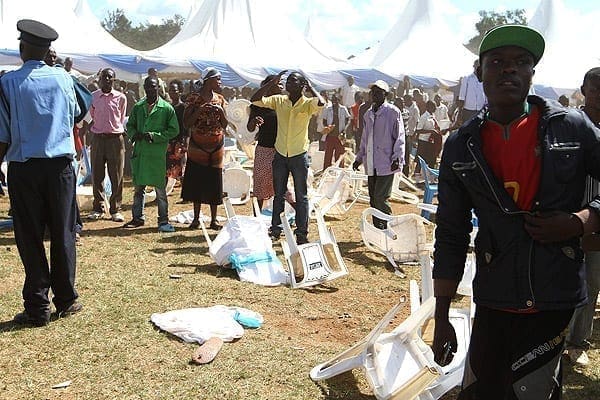 Some of the rowdy youths at Migori Primary School chant ODM slogans at a meeting addressed by President Uhuru Kenyatta on September 8, 2014. PHOTO | CORRESPONDENT
"We are in a mourning state after losing goodies that President Kenyatta brought to us as a result of some desperate politicians out to misuse our youths. I repeat, it shall never occur again and I welcome Mr Kenyatta to come back as many times as he wishes," stated the governor.
"I ask our security agencies to bring all those involved to book because they must respect authorities in power. Presidency deserves honour and not ridicule," added Mr Obado.
"I am putting on notice financiers of hooliganism in Migori County to watch this space. But I want to absolve boda boda operators from blame, since I believe none of them participated in the shame," noted Mr Obado.
The MCAs, led by Deputy Speaker Boaz Okoth, said they would use Wednesday's session to discuss "Migori's day of shame".
"We have postponed the business on the order paper tomorrow to deal with this matter. We are greatly angered by politicians who hired the youths to embarrass the President and senior government officials," he said.
Assembly Majority Leader Richard Sollo said they will not tolerate hooliganism in Migori County and "we are united to deal with this vice".
-nation.co.ke