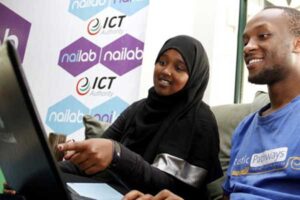 Ever since their university years, 21-year-old Leila Khalif and her 23-year-old classmate Edwin Nderitu have had desire to help Kenyans living in the diaspora easily invest back home.
According to the two, both graduates in international relations from the United States International University (USIU) —Africa, while diaspora residents are looking to invest locally it is hectic to work out the nitty-gritty while living thousands of kilometres away.
It is this ultimate vision that saw them set up an online platform which enables users to delegate tasks to the duo and track progress made.
"Kenyans in the diaspora do not have easy access to government services like document procurement and (ability to monitor) big projects like building a house, so we pondered what we could do for these people because as a country we are also losing out on revenue. That is how the idea of the platform came about," said Ms Khalif.
With the help of 22-year-old web developer Ian Juma, they created TasKwetu (leave tasks to us). The name is meant to establish trust among clients.
Ms Khalif serves as the startup's chief executive while Mr Nderitu is the business development manager.
"She is passionate and a visionary which makes her fit for the job, in addition its easier for her being a woman to build trust which also helps in bringing in clients," he said of Ms Khalif's role.
TasKwetu was formed four months ago, incubated at Nailab's accelerator programme for three months and launched on August 29.
By using the platform, people get their tasks done from the comfort of their homes without compromising their busy schedules or worrying about running an errand in heavy traffic.
All a user has to do is order a task on the taskwetu.com website, either by clicking on an available list or describing an errand, after which one pays service charge and tracks progress as the job gets done.
While most communication is done through the platform, there are instances when they call a client in case changes need to be made or unexpected delays.
"For now we are targeting clientele within the country so that we can learn about their challenges and fine-tune our services before we bring in diaspora clients. To be a sprinter you must first learn to walk," said Ms Khalif.
The young entrepreneurs have established a database of clients with an increasing number of return customers. Their services range from document procurement to delivery of gifts, dealing with Kenya Revenue Authority and renewal of passports.
They also handle cheque deliveries and shop for people who are too busy.
"We got the skills through our experience of company registration as well as getting tax pins in addition to helping some company directors migrate from old manual systems of filing returns to the new itax system," Mr Nderitu explained.
-businessdailyafrica.com