Pastor Caught Practising Witchcraft,saved from mob justice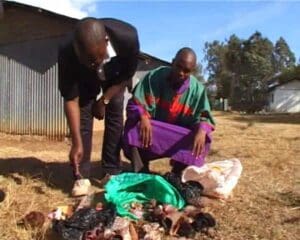 A famous Kiambu pastor was saved from mob justice after he was found in a witchdoctor's house in Tala, Machakos County.
30 year-old James Kimanthi who runs several churches in Kiambu and Meru was found at the homestead of a witchcraft carrying witchcraft paraphernalia when in preaching attire.
Among the items in his bag included bones, head of a chicken and that of a dog before
Police rescued him from an irate mob.
The Tala witchdoctor said that the 'pastor' kept on moving round her house several times, a reason she said justified her suspicion.
She added that he had carried weird things with him as he attempted to carry out his witchcraft.
However, Kimanthi said he had only been sent to pray for the witchdoctor but could not ascertain why he had carried the concotions.
He was arrested by the police and therefore awaiting to be charged with the offence.
By Rehema Juma.
-citizennews.co.ke