Photos:Kisumu Pencil artist finally meets Uhuru at State House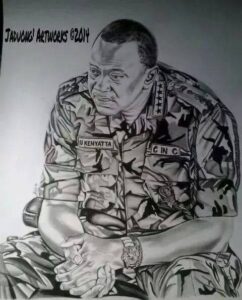 Kisumu pencil sketch artist, Collins Okello alias Jaduong', presented his sketch of President Uhuru Kenyatta in army regalia to the Head of State at Nairobi State House on Monday.
The 24 year-old said he simply did what he loves after seeing Uhuru in the army attire and did not expect much recognition for the drawing.
"I noticed that the Head of State looked very smart in the army uniform and decided to draw him. Little did I know that it would be my gateway to State House," Okello said.
He said he started the 12-hour drawing to improve his eye for finer details.
Okello's drawing of Uhuru went viral after he posted it on his Facebook page. He started receiving congratulatory messages and a call from Uhuru later followed.
"The whole experience has been humbling to me, having received a phone call from the Head of State personally inviting me to State House. I still cant believe it," he said as Uhuru admired the sketch.
Collins has also drawn other notable people in the country including NTV presenter Larry Madowo.