Sonko still nursing Hague Ebola,denies he's beneficiaries of grabbed Karen land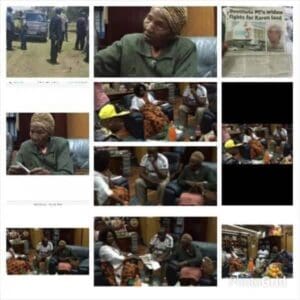 Sonko has been quiet and missing in action ever since he came back from the Hague.It was unlike Sonko not to appear in recent activities of President Uhuru Kenyatta and many people were curious as to what happened.Well,Sonko has the answer of where he has been and more but you have to wear a mask before you get infected with whatever.Here is his message:
I have been unwell for the last two weeks I think ni Ebola ya Hague. I have been accused & named by my colleagues in the CORD coalition as one of the beneficiaries or grabbers who grabbed the Karen land just because I was spotted at the scene (land in question). I wish to respond as here under:
To be spotted at the scene doesn't mean or give evidence that my presence there was purposely to grab the land in question. I have been successfully fighting for reposession of public land and schools for a couple of years now including visa oshwal school in westlands, Buruburu girls school; Langata high school; Kamkunji Secondary School; st. Catherine primary school; Huruma children's home and now Nairobi school playground.
I was approached by an elderly widow aged 89 yrs old who is alleged to be the official claimant and administrator of the estate of her late husband Mr. Mburu who until his death, was the former Nairobi County PC and who was the legal registered bonafide owner of the 134 acres land in question in Karen. The poor widow further alleged that Dagama Rose who's currently claiming to be the owner was an advocate of their family when her late husband was alive and she has been trying for years to fight back for the land in vain. Apart from the document she availed to me were newspaper cuttings of the same case he raised some 2 years ago but she could not pursue her right after unknown people called to threaten her. Since the land in question is in my county, the poor widow still resides in my county, the late Mburu was the former PC of in my county and though I'm not an advocate, the widow managed to give me all the necessary copies and authority to pursue the matter on her behalf. The first thing I did was to leave the widow in my office coz of her old age and visited the scene with her relatives where we found a group of masai morans guarding the land in question. The clothes I was wearing on when the photo was taken at the scene which the CORD politicians are circulating and connecting it with me in their grabbing allegations are the same clothes I had when the poor widow came to my office to complain that some influential and connected lawyers had stolen her late husbands property. Attached herewith are photos including the one which is being circulated by my colleagues in the opposition.