Fundraiser for Kenyan involved in explosives accident that obliterated his mouth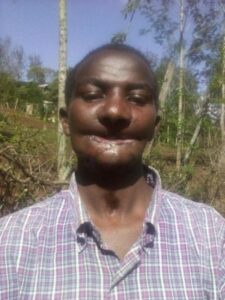 Joseph Kimani Njoroge is a young Kenyan man facing odds very few guys his age will ever have to.  Joseph was involved in an explosives accident that obliterated his mouth and disfigured his face nine years ago bringing his young life to a screeching halt.  Today, at the prime of his life, Joseph's face is still gravely deformed affecting daily basic functions like feeding and his ability able to work.
Joseph's family and friends in the USA are appealing for your financial contribution to fund his facial reconstructive and plastic surgeries.  Your support will mean that Joseph's dream to be able to smile again can one day be realized.
Joseph needs reconstructive/plastic surgery to build a new jaw, plastic surgery for his face and dental fixings.  Joseph's road to recovery has been long and tough yet great strides still have to be made.  He is determined to take each step, and with our help, he will do it:
Steps achieved so far:
–  January 2014, accepted into the volunteer medical program of the "Help A Child Face Tomorrow" organization.
–  May 2014, a few friends along with his family raised $10,000.
–  July 2014, Joseph underwent the first surgery to reconstruct his jaw.
– Current need $10,000 – Fundraising efforts to cover plastic, oral and maxillofacial surgeries.
Fundraising event at 2:00 p.m. – November 16, 2014
Kenya American Community Church, 771 Elberta Drive, Marietta, GA 30066
Your contribution to this special need will change Joseph's life forever and allow him to return to his dream of serving others.
Incase you cannot make it to the event, you can send your contribution by direct deposit to
Bank Deposits:  Bank of America
Acct. Name:Jane Wamugi                                                              
 (Joseph Kimani Njoroge Surgery Fund)
Acct. Number: 334038665733
OR
Via Give Forward – www.giveforward.com
 Direct link – http://gfwd.at/1wJ7uZc
THANK YOU FOR YOUR FINANCIAL SUPPORT AND PRAYERS TO HELP JOSEPH KIMANI NJOROGE GET HIS SMILE BACK!!
Joseph has access to these surgeries at a significantly lower cost due to the support of Help A Child Face Tomorroworganization that assists underprivileged children needing facial surgeries.  We are very grateful for their support!