PHOTOS:Uhuru Drives Kenyan Made Car 'Mobius' At KICC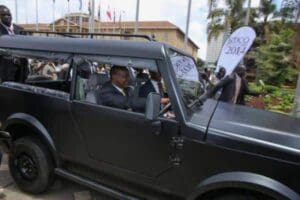 Yesterday, President Uhuru Kenyatta officially opened the Kenya International Investment Conference at the KICC where he met a string of top local and international investors. Immediately after completing his presidential obligation, the head of state was given the opportunity of riding in the first ever commercial Kenyan-made car dubbed 'Mobius'.
Below are photos of the president testing his driving skills.
-nairobiwire.com