Jamhuri Celebrations Video:Museveni lashes out at ICC, wants Africa to pull out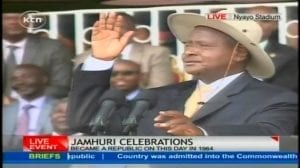 Ugandan President Yoweri Museveni yesterday renewed his attack on the International Criminal Court (ICC) over its handling of the two Kenyan cases amid calls for mass withdrawal of African State parties from the Rome Statute.
Speaking during celebrations to mark Jamhuri Day at the Nyayo National Stadium, Nairobi, President Museveni, who directed his tirade against unnamed Western powers said he plans to table a motion before the African Union seeking to have all African State Parties withdraw from the treaty en-mass.
"My view is that, at the next summit, African countries should review their membership to the ICC treaty. I plan to table a motion for the withdrawal since the court is turning out not to be of value addition that we had expected it to be. It is, instead, a biased instrument of post-colonial hegemony," Museveni said.
The Ugandan leader said he was previously an ardent supporter of ICC at the time his country signed the Statute but the court has since been turned into an object of oppressing the African continent.
Museveni was among the first leaders to refer a case to The Hague-based court when he forwarded the case concerning the Lord's Resistance Army chief Joseph Kony.
"They said President Uhuru had a case to answer but you saw what happened recently. The pushers of the hegemonistic agenda have been misusing the ICC, an institution we initially supported. I will no longer work with the ICC since its agenda is being pushed by certain forces," said Museveni who has publicly criticised the court on several ocassions.
Museveni said while he was impressed with the recent withdrawal of charges against Uhuru, he was not happy with the ongoing case against Deputy President William Ruto.
President Uhuru Kenyatta also dismised the ICC.
-standardmedia.co.ke
51st Jamhuri Celebrations: Paul Kagame President Rwanda Speaks
51st Jamhuri Celebrations: Vice President of South Sudan speaks
Ndege za vita zafurahisha Wakenya katika sherehe za Jamhuri