Uhuru New Year Message:Our journey as Kenyans is full of promise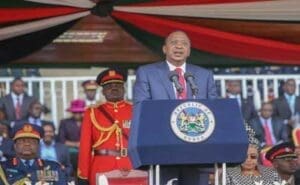 President Uhuru Kenyatta remained upbeat Kenya is on the path to prosperity even as he acknowledged that terrorism continues to be one of the country's biggest challenges.
In his New Year message, read to Kenyans from State House Nairobi, Uhuru said Kenya has taken off on a voyage of prosperity, democracy, equity and freedom.
The Head of State said his administration remains committed to rooting out terrorism using all necessary measures, under the law, to ensure Kenyans and their property are safe and secure.
"We, a great people of a great nation, are on a transformational journey. While we know this journey is replete with challenges, it is also full of hope and promise," he said.
He maintained that his administration would sustain strong actions to combat terrorism in all its manifestations. "Let it be understood that my administration's resolve to secure the lives of every Kenyan and their property, wherever they are, is not negotiable," added Uhuru.
The President thanked Kenyans for their co-operation with and support to security agencies to ensure the country remained secure during the festive season.
"A good number of you took time off to enjoy your holidays in various places across the country. This demonstrates that united with one purpose and in partnership, we can and will secure our nation and make it prosperous," he said.
While thanking security agents for working round the clock to ensure Kenyans and visitors are safe, Uhuru praised those who heeded "my call to go about their business without fear".
He said Kenyans had made efforts to keep themselves and their families safe during the festive season.
"As we boldly enter into the year 2015, I urge all of us to embrace the spirit of partnership and oneness guided by a singular desire to ensure that we contribute towards making Kenya a unified and prosperous country," said Uhuru.
The President said last year was remarkable as the country achieved many of its goals.
He said the country significantly reduced the cost of electricity by 30 per cent, commenced construction of the standard gauge railway and three berths as part of the Lapsset programme.
He further said his administration rehabilitated and expanded the Jomo Kenyatta International Airport, and broke ground on the long-awaited Konza Technopolis. "In addition, the expansion of our road transport infrastructure is proceeding in earnest," he said.
Uhuru said programmes are also being implemented to improve delivery of health, education and agricultural services.
"We continue to improve delivery of public services through the establishment of Huduma Centres, e-Citizen platforms and the streamlining of critical business processes across the country. This has significantly reduced turnaround times and costs for citizens and businesses," he emphasised.
President Kenyatta said 2014 saw a number of multinational corporations make Kenya their centre of operations for the region and Africa while noting the success of the Euro Bond as well as expansion of the capital markets demonstrating the confidence investors have in the country.
Furthermore, he said, the transformation of the parastatal sector would positively turn around the country's investment climate. He vowed his administration would continue to make deliberate efforts to encourage the trend.
"In addition, my administration is implementing other reforms aimed at creating more jobs, further reducing the cost of living and doing business, enhancing Kenya's competitiveness and contributing towards improving the quality of life of our people," he said.
Kenya continues to discover deposits of oil, gas, coal, iron ore and rare earth minerals across the country, he added.
He said his administration is committed to ensuring mineral wealth becomes a source of prosperity.
"In this regard, we have finalised drafting laws to guide and regulate exploration, utilisation and value addition of these resources. This is because this God-given wealth must never become a curse to our people," he said.
The President promised that his administration would continue to strengthen measures to protect the youth from political manipulation, radicalisation, drug and substance abuse and other vices.
"Let us stand as one people to answer the urgent call of our glorious destiny. If we work hard, work together in our many different ways, we will be abundantly rewarded.  If we love one another, celebrate our diversity, resist division and stay united, we will achieve greatness.  Let the New Year be the year of the Kenyan Family, and of every single family in Kenya," he said.
standardmedia.co.ke