11 Kenyan Entrepreneurs Picked for 2015 Green Pioneer Accelerator Program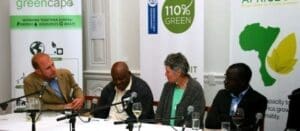 The Green Pioneer Accelerator, a business accelerator that seeks to support social enterprises with innovative products and services mitigating the effects of climate change, has selected 11 entrepreneurs for the program in Kenya and 12 entrepreneurs for the program in South Africa.
The selected entrepreneurs were identified after a multi-phase selection process which focused on the viability of their businesses, the strength of the teams, and their potential to solve huge challenges through innovative products and creative solutions.
The 16 week acceleration programs are starting end of January and early February. Impact Amplifier, Growth Africa, VC4Africa and Hivos are offering this comprehensive program to take the selected businesses from 'market proof' to 'ready for investment'. The program seeks to position companies for scale by getting their strategy, financials and pitch deck in shape, and preparing them for fundraising conversations with investors.
This program combines a rigorous curriculum with practical experience shared by successful entrepreneurs, mentors and investors. Graduates will also have access to over 600 private sector investors and can tap into the combined networks and knowledge of the participating partner organizations.
The 11 entrepreneurs selected for the program in Kenya are listed below. The uniqueness of this batch is the diversity of the social enterprises tackling some of Africa's most pressing agriculture, energy and environmental concerns.
1. Strauss Energy (Kenya) – Tony Nyagah
Strauss Energy is building an integrated photovoltaic roofing tile for residential houses and commercial units. The excess power generated will be fed into the national grid so that home owners can earn income from the feed-in-tariff.
2. Afrisol Energy Limited (Kenya) – Amos Nguru
Afrisol specializes in design, installation and maintenance of biogas digesters to produce clean and cheaper energy for institutions.
3. Boma Safi Limited (Kenya) – Joyce Gema
Boma Safi sells affordable solar products, clean cook stoves and briquettes to rural households through a hub-spoke and promoter distribution model.
4. Classic foods Limited (Kenya) – Wachira Kariuki
Classic Foods processes dairy products, fruit juice, tomato sauce, honey, flour milling and manufactures animal feeds.
5. Cobitech Solar (Kenya) – Samson Gichia
Cobitech works with microfinance institutions and savings and credit cooperatives to provide the solar kits on loan to rural poor households for repayment within one year.
6. Consumer's Choice Limited (Kenya) – Mohammed Kadhi
Consumer Choice replaces the use of fossil fuels with more efficient, more economical Bio-Ethanol Gel and environmentally friendly clean cook stoves.
7. Green Pencils Limited (Kenya) – Ivan Ochieng
Green Pencils sources old newspapers from registered groups like the disabled, women and youth groups to produce customized pencils and ball pens.
8. Kencoco Limited (Kenya) – DR. Said Twahir
Kencoco uses coconut shells, husks and other biomass material to produce charcoal briquettes and sells to households and institutions.
9. Plexus Energy Limited (Kenya) – Edward Kinyanjui
Plexus distributes off grid power solutions such solar lighting, solar water heating and UPS systems for network masts for telecommunication companies and data centres for internet service providers.
10. Sanivation (Kenya) – Andrew Foote
Sanivation installs portable toilets and charges a monthly fee to provide household sanitation and energy services to people living in congested areas.
11. Skynotch Energy Africa (Kenya) – Patrick Kimathi
Skynotch Energy runs a mini-hydro power generation plant, and works with small dealers to provide last mile distribution for solar lanterns and solar energy applications.
Spekboom Trading generates blue-chip carbon credits through the restoration of degraded land by the cultivation of spekboom, which acts as a carbon sink.
The Green Pioneer Accelerator Program has been developed for early stage companies looking to position themselves for scale. The selected companies have a working prototype with clear market demand and/or are already generating revenue. This program is designed to support entrepreneurs who have ambitions to take the next step in growing their business to a national and regional scale.
A number of organizations have joined the program as partners, each contributing specialised expertise to support the green entrepreneurs. Organizations involved now include SEED, Embark Energy, Africege, GVEP, DOEN Foundation, and many others.
Asked about why Hivos initiated this collaboration, Program Manager Leo Soldaat explained, 'Hivos is very concerned about the environment. We see many problems such as climate change, loss of biodiversity and degradation of soils. In order to address these issues, Hivos wants to co-create private sector driven green innovation. We continue to support green pioneers working to tackle these constraints by positioning them for growth and improving their access to capital. We see the Green Pioneer Accelerator Program as an important next step in developing ventures in these markets, further extending our work into these areas.'
'We are delighted to be part of Africa's first Green Pioneer accelerator designed to accelerate growth of businesses in the green space" says JohnniKjelsgaard, the Group CEO of Nairobi based accelerator Growth Africa. "We believe each one of the 11 early stage enterprises selected to join us in Kenya has huge potential to have significant impact. We will take the entrepreneurs through a unique combination of facilitated learning, peer-based learning and mentoring by some of Africa's most experienced entrepreneurs, C-suite executives and technical specialists. All this is leveraging GrowthAfrica's innovative methodology and learning, discovery and planning tool – the ImpactCompass™.'
Maximilian Pichulik, Partner of South African based Impact Amplifier adds, 'This program is about taking promising green entrepreneurs and getting them ready for investment, with fundable business plans. We have a long track record of successful deal making and this is the next step to accelerating innovation in the green space. Really we are breaking open a new era for green innovation and entrepreneurship.'
Upon successful graduation, the enterprises in each program will be showcased to a group of investors including impact-focused as well as impact-agnostic angel investors and early stage venture capital funds. The showcase will be done through VC4Africa's online platform and culminates with interested parties participating in a physical 1-day networking session in both the East Africa and Southern Africa locations.
Supporting this program is another way VC4Africa seeks to connect entrepreneurs with quality opportunities and investment leads. Ben White of VC4Africa says, 'The entrepreneurs selected for this program are working on some really impressive ventures. These companies have received very little attention to date and we plan to change that with this program. We are keen to scale these businesses and help put some success stories on the map. We feel this program only starts to scratch the surface on an area of entrepreneurship that has so much potential.'
-The Star