Can Rosemary Odinga inherit Raila's political turf?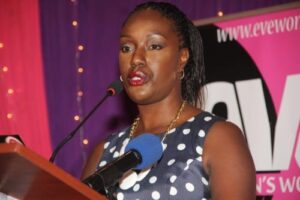 Speaking at the January 10 burial service of Fidel Odinga at the Jaramogi Oginga Odinga University of Science and Technology grounds in Bondo was not that easy.
Some individuals were jeered and asked to exit the podium, while others were cheered for saying what the audience wanted to hear. Rosemary Odinga, Raila Odinga's second-born child, stole the show when she called on the Coalition for Reforms and Democracy (Cord) and Jubilee to humble themselves and serve Kenyans.
"Let CORD embrace dialogue without issuing ultimatums. But Jubilee should also know that they didn't have the instruments of power yesterday, and tomorrow, they will hand the same instruments to a different person. Only dialogue will bring us together," Rosemary implored.
The mourners even sang along with her as she led them in a rendition of Bob Marley's Redemption Song, which she said her brother loved. She got accolades from across section of Kenyans on Twitter and Facebook.
With Fidel gone (he was reportedly keen on the Kibra Constituency seat), the question on some people's lips now is whether Rosemary could walk in her father's footsteps.
Should the US-educated mother of two daughters and, the only snail-rearing farmer in Kenya decide to plunge into politics, she will face quite a number of hurdles.
Though her aunt Ruth Oginga is the Kisumu County Deputy Governor and her mother Ida is a respected political figure, Rosemary might not have it easy. She will face the same challenge that women have to contend with in a political field dominated by men. Political leaders in the country also rarely groom their daughters for politics.
Cultural demands
Ker Riaga Omollo, a former chairman of the Luo Council of Elders, says it might be hard for her to be elected into a political office. "Our culture demands that for her to be elected in Luo Nyanza, she has to be married here to a Luo man. This is not the case because we know that she is married in Luhyaland," Omollo says. He says Rosemary is viewed as an outsider and now belongs to the community where she is married.
"When our daughters leave us for marriage outside our community, they can't come back and demand that we vote for them. Even Mbita MP Millie Odhiambo had to convince us that she is no longer living with her husband in Zimbabwe before we elected her," Omollo says. But Bishop Winnie Owiti of Kisumu-based Voice of Salvation and Healing says Rosemary has proved that she is capable and can be elected. "Nyanza has a record of women politicians who have proved themselves and have been elected. When Rosemary spoke at the funeral, she offered some guidance, a key attribute of a leader. She has what it takes," Winnie said.
Groomed for leadership
The pastor feels that a female Odinga can make a decisive stand. "She has impressed not only Luos, but Kenyans in general. Let her be given an opportunity," added Winnie. She wants male politicians to groom their sons and daughters equally for political and other offices.
"Women have proved themselves in all spheres of life. When Kethi Kilonzo declared her interest to succeed her father Mutula Kilonzo in Makueni, the community accepted her because she was capable.
Let Raila polish Rosemary to make her a good leader in this country," Winnie advised. She faulted the notion that women can never be leaders in their ancestral home. "Women are vulnerable and must at one point leave their homes for marriage in different places.
As long as they have a clear vision of what they stand for, they should be given the opportunity," she added. Father John Pesa of the Holy Ghost Coptic Church agrees with Winnie. "Rosemary is what Raila has for now. She has proved that she is wise and can unite Kenyans.
Her father should groom her for politics. Who knows, she might unite the nation and take Luos out of the 50 years of being in the Opposition," Pesa says. He condemned his kinsmen for sticking to some cultural practices that are outdated.
"Let Luos shun bad aspects of culture and marry from other communities. There is need to change with the times. Such change will not see ugly incidents like throwing of stones and shoes at people and will lead to the acceptance of women as leaders and important members of the society.
The Kalenjins have no problem voting for their daughters like Dr Joyce Laboso, who is married to a Luo, but represents Sotik Constituency in Rift Valley," Pesa noted. Prof Macharia Munene who teaches history at the United States International University-Africa, says it is possible Rosemary can be elected as a politician.
"If she has the passion, there is no reason why she shouldn't be elected. Though she can't run away from the Raila name, she should not project herself as her father's carbon copy. She has to carefully choose her constituency so that people identify with her as an individual," Munene says.
–sde.co.ke