Hilarious Video:My sickness pushed me to cane Raila Odinga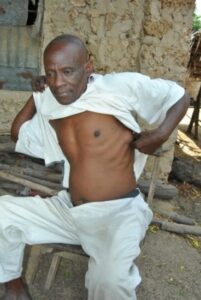 Lengo Karisa Mdzomba made headlines when he whipped Cord leader Raila Odinga during a political meeting in Kwale last September. He now claims that he suffers a medical condition that pushes him into involuntary acts like the incident with the former PM.
How has your life changed since the incident?
I woke up the following day to find myself in newspaper headlines, radio and television. After that, I started getting visits from relatives whom I had never met before.
What drove you to the rally which eventually saw you cane Raila?
I cannot pinpoint exactly what took me there; but something pushed me to cane someone. I was disoriented and wasn't in the right frame of mind when I started caning the former PM. I have a growth on the upper left side of my ribs which sometimes gets so painful that I end up developing compulsive behaviour. It happened that day.
What do you think of Raila?
Raila is a good man and that's why he not only forgave me, but also gave me back my freedom even after I humiliated him in public.
Some people claim you were paid to cane Raila?
That is untrue. Some people wondered how I had travelled all the way from Kaloleni to Kinango to cane someone. I wouldn't do such a thing even if I was paid a million shillings. Later, I wondered what would have happened had I been shot in the process? I've also heard others saying that I was sent by the Jubilee government, claims which are untrue.
What were you doing in Kinango that day?
I first went to Kinango in 1985 where I worked as a gardener for an Asian family. I worked for six months then got the urge to cross over to Tanzania in search of greener pastures. I ventured into Tanzania and stayed there doing casual jobs until 2014 when I decided to come back to Kenya due to my failing health. I headed to my Kaloleni countryside and stayed there for a few weeks. I got bored and ventured back to Kinango hoping to trace my old Asian employer. They heartily welcomed me back and even told me I could stay with them as I looked for something to do.
Did the incident make you famous?
–sde.co.ke