Naked South African pastor wants his flock to watch his video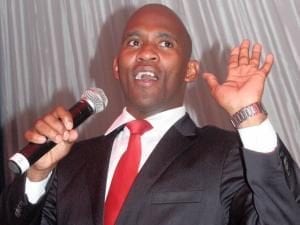 Pastor Zondo took the podium for the first time since a nude video of him, allegedly filmed by a mistress, leaked online.
Zondo, best known for his motivational talks on Ukhozi FM's Breakfast Show on Tuesdays, caused a stir last week after a video posted by the Daily Sun showed him unknowingly being filmed by a female companion while he talks on the phone casually walking around in his home in his birthday suit.
On Sunday the pastor unexpectedly urged his followers not to delete the video but to watch it again whenever they are going through a difficult time in life.
"Do not delete my naked video. In life you'll be in a bad situation and when that time comes, go through my video again and be reminded that there was once a naked pastor who made news. What could be more embarrassing?" Zondo said.
Church members stood on their chairs and some raised them above their heads in support of the pastor as he spoke about the scandal for the first time.
"Sithembiso Zondo is not bigger than God. Whatever may come, we are here to stay," a member of the church told News24 isiZulu.
During the service Zondo apologised to the SABC and pastors fraternity.
"I stand before you in shame. I am sincerely sorry," Zondo said.
***************************
UNTIL now Pastor Sithembiso Zondo has been known for his motivational talks to millions of listeners on Ukhozi FM.
The pictures don't tell us what kind of speech he is making on his phone, but he is clearly very involved.
The naked pastor is apparently lying low after the video, which was posted on Monday afternoon, went viral on social media around the country.
A close friend of the pastor who is known to Daily Sun said Sithembiso is on a 21-day fasting prayer session.
The source also said as far as he knows, the pastor's wife has also left the house.
In the video the pastor is seen walking up and down waving his hand around.
He also touches himself casually.
The legs of a woman in pink clothing are seen at the bottom of the shot. The pastor is completely naked.
He is famous for his motivational talks on Ukhozi FM's Breakfast Show on Tuesdays.
Towards the end of last year, he held relationship seminars where he shared tips on what to do and what not to do for a successful relationship.
But some people have lost faith in one of the most popular pastors in the country.
On Facebook and Twitter some people felt sorry for the pastor while others are laughing at him, calling him the horny pastor.
The DA leader in eThekwini Municipality, Zwakele Mncwango, expressed his opinion on Facebook.
"I lived with Pastor Zondo in the same flat for eight years," he commented.
"He is a strong person and will get over this. All I can say is shame on a woman who goes all out to destroy a man."
Many comments have been flying around on the networks.
A Twitter user, ZK, tweeted: "Just saw a naked video of pastor Zondo, his makhwapheni took it, yoh hhay pastor. Ngabothemba umuntu, only listen to what they preach and trust yourself to execute it."
Yolanda Dube tweeted: "I am shocked by this video. Whoever took the video of the naked pastor is cruel."
Alfred Dai (74) from Joburg said he has lost faith in pastors.
"In the old days when families were faced with misunderstanding, they went to pastors. But these days pastors are the ones who break people's families. There is no one left to trust," he said.
Daily Sun tried to contact the pastor but his phone rang unanswered and he did not respond to our text message. His assistant, Dumisani, also refused to comment.
Daily Sun also tried to speak to Zondo's manager, Mjay Kazondo but his phone went unanswered.
The SABC's Kaizer Kganyago said he has seen the video and described it as a personal matter that had nothing to do with the station.
"However, we will investigate the impact it will have on the station's reputation and action will be taken if necessary," he said.
-Daily Sun