PHOTOS:THE LATE JOSEPH ODEDE'S FUNERAL IN LONDON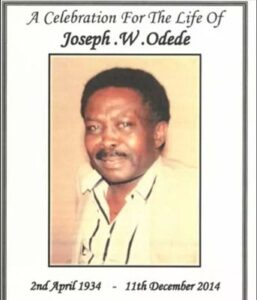 The body of the late Joseph Odede Agwaro was laid to rest in London on Friday 2nd January, 2015 at City of London Cemetery.
The funeral procession  arrived at 48 Reginald Rd. E7 9HS Forest Gate at 10am where they collected floral tributes and then continued  to the City of London cemetery for service at 10.30.
Service was held  at the City of London Cemetery chapel. City of London Cemetery Aldersbrook Road, London. A reception followed thereafter at 12 noon at Wanstead Sports club (Previously known as Blake Hall Sports Club), Blake Hall Road, E11 2QW.
The late Joseph Odede Agwaro passed away on Thursday 11th December 2014 in London UK.
He was the son of Mr. and Mrs. Agwaro of Chula Rusinga, Kenya. Brother to Maurice, Kings, Philemon, Daniel and James, Eriuwa, Omogi and Karen, Dinah Bawden. The late Lillian Ochieng , Ogweno, Odhiambo, Daniel and Odari, Ach. Ola, Apiyo and Anyango.Father to Pamela Jane Cocozza Odede & Melissa Sarah Jayne Odede.
The family of the late Odede (above) and the coffin escored to the chapel before burial
A Horse-drawn hearse (above) escorted the coffin of the late Odede to the cemetery in Manor Park, London
-Misterseed.com