Spotlight stalked young Odinga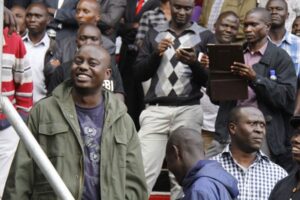 Before making a surprise visit to the Senate on October 28, 2014, Cord leader Raila Odinga had lunch at the restaurant at Parliament.
He barely had time to enjoy his meal as MPs from both sides of the political divide went over to shake his hand and engage him in chit-chat.
A few metres away, in a blue suit and matching tie, sat his eldest son Fidel, who, unlike his father, did not get much attention and only chatted with the MPs who sat with him as he had his meal in relative peace.
That was the Fidel Odinga many Kenyans knew; never too far away from his father but always trying, without much success, to stay out of the spotlight that always followed his father.
When he attended the Saba Saba rally at Uhuru Park on July 7, last year, Fidel mingled freely with ODM supporters, his father's bodyguards and journalists.
His younger brother was in attendance, and they happily took selfies with their friends. One journalist said the former Prime Minister's son reminded him to include in his story the fact that, contrary to the notion that politicians' offspring do not get involved in politics, he was present to support his father's cause.
Said ODM nominated MP Isaac Mwaura on his Facebook page: "Soft spoken and cool. If you didn't know him, no one could tell that he was the son of Rt Hon Raila Odinga.
I remember when I served as an adviser in the office of the Prime Minister, he would queue just like any other to see his dad."
Despite being afraid of the limelight, whenever he got into trouble with the law or was involved in an incident or anything, it always ended up in the news.
When he married Veronica Wanjiru Ng'ang'a under customary law on March 17, 2007, it was a major news item.
Four years later, he was in court to file for divorce, telling a magistrate he wanted out because of irreconcilable differences with Ms Ng'ang'a.
Although his second marriage was supposed to be a low-key affair, the media still found their way to the Greek Orthodox Church on Nairobi's Valley Road as he wedded Lwam Getachew Bekele, his wife of Eritrean descent.
-nation.co.ke