Uhuru To Attend AU Summit In Addis Ababa-ICC Biggest Agenda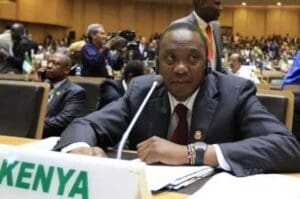 In this year's summit, the African Union leaders are planning to endorse the Malabo protocol that was adopted during the last AU summit in Equatorial Guinea.
The protocol seeks to withdraw Africa states from the International Criminal Court (ICC) as well as give immunity to all ruling leaders.
Heads of State and Government at the Malabo Summit also adopted some declarations related to acceleration of agricultural growth and transformation for shared prosperity and improved livelihoods.
The African leaders are also expected to elect 90-year-old Mugabe to the mostly ceremonial position at AU headquarters in Addis Ababa.
At the same time, Civil society organizations are  opposing the likely election of Zimbabwe's President Robert Mugabe as the next president of the African Union.
The 24th Summit of the African Union is based on the theme "Women's Empowerment Year and Africa Development for the concretization of Agenda 2063."
-citizennews.co.ke